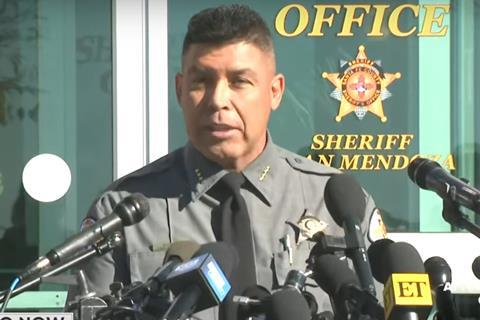 UPDATED: Rust first assistant director Dave Halls has told investigators he did not fully check the gun that Alec Baldwin fired during a rehearsal, killing cinematographer Halyna Hutchins.
According to new information revealed in an affidavit filed for a search warrant related to a prop truck made public on Wednesday Halls said, "I check the barrel for obstructions, most of the time there's no live fire, she [armourer Hannah Gutierrez] opens the hatch and spins the drum, and I say cold gun on set."
The affidavit revealed that Halls said when Gutierrez showed him the weapon before they continued the rehearsal he could only recall seeing three rounds. He said he should have checked all of them but did not and could not remember whether Gutierrez had spun the drum.
Halls then handed the gun to Baldwin and said "cold gun" indicating the firearm did not contain live ammunition. Baldwin had been rehearsing the act of drawing the gun from a holster when it discharged and hit Hutchins in the chest and hit the shoulder of director Joel Souza who had been standing behind her.
Police were called to set at Bonanza Creek Ranch in New Mexico last week (October 21) at 1.48pm and arrived at 2pm. Hutchins was rushed to hospital and subsequently died.
At a press conference earlier on Wednesday Santa Fe County Sheriff Adan Mendoza said a lead projectile had been removed from the shoulder of Souza. The officer said authorities believe they have recovered the spent casing fired from the gun and believe both items are the live round fired by Baldwin.
Mendoza, who told reporters there was no recording of the incident, said, "We have recovered what we believe to be possible additional live rounds on set." The Colt .45 discharged by Baldwin along with two other firearms and approximately 500 rounds of ammunitions are part of a haul of around 600 items of evidence including clothing that has been sent to the FBI crime lab in Quantico, Virginia.
Mendoza told reporters Baldwin, Gutierrez and Halls had all cooperated with authorities and provided statements. The investigation is ongoing and all evidence will be passed on to local district attorney Mary Carmick-Altwies for review. The law officer said it was too soon to talk about charges, although Carmick-Altwies added, "All options are on the table at this point. No-one has been ruled out at this point." In an interview with The New York Times the DA said it was incorrect to refer to the firearm as a prop gun because it was an actual antique gun.
The two other firearms on the scene at the time were a single action Army .45 revolver that had some modifications to the cylinder and Mendoza said may not have been functional – that will be determined by the crime lab – and a plastic non-functioning revolver. The 500 rounds contained blanks, dummy rounds and possible live rounds.
New Mexico governor Michelle Lujan Grisham has repeated her call for Hollywood to review safety protocols on set. Later on Wednesday it emerged that a Los Angeles City councillor has introduced a measure to ban live guns and ammunition on film and TV sets.
The Rust production has hired law firm Jenner & Block to handle its own investigation.