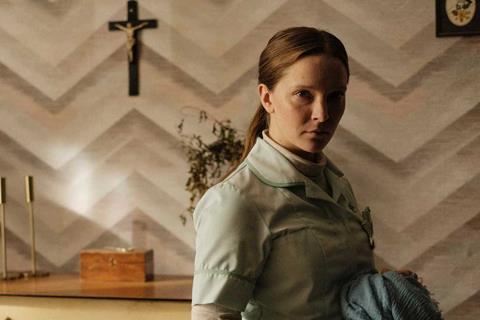 Rose Glass's psychological horror Saint Maud and Armando Iannucci's The Personal History of David Copperfield are among the nominations for the UK Casting Directors' Guild awards.
The third edition of the CDG Casting Awards will take place online on February 21 and encompass film, TV, theatre and commercials.
In the independent film category, Kharmel Cochrane has been nominated for her casting of Saint Maud, which stars Morfydd Clark, who was named a Screen Star of Tomorrow in 2016.
Further nominees include Isabella Odoffin for Blue Story, Shaheen Baig for Calm with Horses, Louise Kiely for Dating Amber and Dixie Chassay for Sulphur and White.
In the best film casting category, Iannucci's long-time casting director Sarah Crowe and her associate Xanthe Spencer-Davidson have been nominated for The Personal History of David Copperfield, an ensemble comedy-drama led by Dev Patel.
Additionally,Jessica Ronane and Christopher Worrall have been nominated for Emma., Des Hamilton for Jojo Rabbit, Fiona Weir, Alice Searby and Sarah Wilson for Judy, and Kharmel Cochrane for The Lighthouse.
Crowe also picked up a nomination in the TV comedy casting category for her work on BBC series Motherland.
Kahleen Crawford, who best casting in a film at last year's awards for her work on Tom Harper's Wild Rose, returns in the TV drama category who two nods for BBC/HBO fantasy series His Dark Materials and Sky Atlantic's I Hate Suzie.
Casting has received greater recognition by awards bodies in recent years, with Bafta introducing a category for scripted casting in both film and TV earlier this year.
CDG Casting Awards 2021 nominations (film and TV categories)
Best Casting in an Independent Film (<£3m)
Isabella Odoffin for Blue Story
Shaheen Baig for Calm with Horses
Louise Kiely for Dating Amber
Kharmel Cochrane for Saint Maud
Dixie Chassay for Sulphur and White
Best Casting in a Film (>£3m)
Jessica Ronane, casting associate Christopher Worrall for Emma.
Des Hamilton for Jojo Rabbit
Co-cast Fiona Weir and Alice Searby, casting assistant Sarah Wilson for Judy
Kharmel Cochrane for The Lighthouse
Sarah Crowe, casting associate Xanthe Spencer-Davidson for The Personal History of David Copperfield
Best Casting in a TV Drama Series
Shaheen Baig for Giri/Haji (BBC Two)
Kahleen Crawford and Dan Jackson for His Dark Materials (BBC One)
Kahleen Crawford for I Hate Suzie (Sky Atlantic)
Julie Harkin, casting associate Nathan Toth for I May Destroy You (BBC One)
Louise Kiely and Karen Scully for Normal People (Hulu)