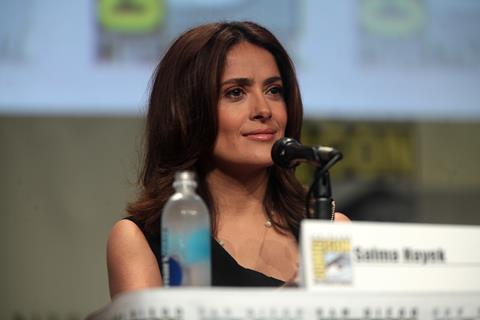 Lionsgate has signed a first-look producing deal with Salma Hayek and her producing partner Jose "Pepe" Tamez.
Hayek and Tamez will produce features for Lionsgate through their Ventanarosa Productions, and explore opportunities with Lionsgate-backed production company Pantelion Films.
The partnership comes after a history of successful collaborations between Hayek and Lionsgate, including The Hitman's Bodyguard and How To Be A Latin Lover. Hayek is set to star in several of Lionsgate's projects currently in development.
She produced Frida, as well as the Emmy nominated Ugly Betty, and has starred in films like Grown Ups, Desperado, Savages, Frida, and recent art house release Beatriz At Dinner.
Ventanarosa Productions president Tamez worked with Hayek Pinault on Ugly Betty and produced Beatriz At Dinner.
"Salma is an artist with a distinct and powerful voice whose projects resonate with audiences around the world, and we're thrilled to partner with her and Jose on films that reflect their unique creative vision," Lionsgate Motion Picture Group co-chair Joe Drake said.
"I'm very grateful to begin this new phase of my partnership with Lionsgate," Hayek said. "They have built a tremendous rapport with mainstream and underserved audiences alike and their willingness to push the envelope with films that reflect a bold and authentic creative vision fills me with great excitement. I couldn't have found a better home."
"Salma is a major superstar who has shown that great film and television properties transcend language and cultural boundaries," Pantelion Films CEO Paul Presburger added. "We look forward to partnering with Salma and Pepe on exciting new projects for our future slate."