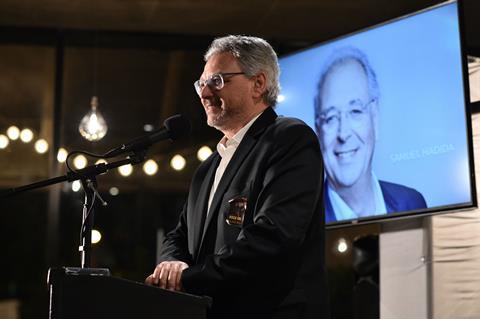 The international community paid tribute at a celebration of life on Thursday (28) to the late producer and independent film titan Sammy Hadida, who was remembered as a great friend, ferocious businessman, and karaoke-lover.
Hadida's brother Victor summed up so much of the evening at Tiato in the Lionsgate complex in Santa Monica when he spoke of his deep bond and friendship with his brother, who died unexpectedly last November at the age of 64.
Etchie Stroh of Moonstone Entertainment emceed the emotional and often very funny celebration and set the tone when he said of the former co-head of Metropolitan FilmExport, "I love him dearly, I miss him dearly, but here we have a celebration of his non-stop energy, his compassion, his huge heart."
Roger Avary, the Oscar-winning co-writer of Pulp Fiction, recalled a huge fight in the early 1990s with Hadida while directing Killing Zoe, one of the first films produced by Hadida through his Davis Films. "I was near to tears and at the point when I wanted to kill this guy and he went, 'OK I want to do karaoke,' and we did and [the argument] went away."
"I wanted to be part of this crazy, crazy adventure of cinema and Sammy made it possible for me," said Avary, who recalled how his friend Christophe Gans dubbed the Casablanca-born Hadida 'The King of Chaos'. Avary rounded out his tribute by saying, "I loved this man and I feel lost without him. I feel like there's no captain on deck."
Graham King, whose Bohemian Rhapsody earned four Oscars at the weekend, recalled how he would often dine and swap stories with Hadida and his beloved brother and Metropolitan FilmExport co-head Victor at the AFM.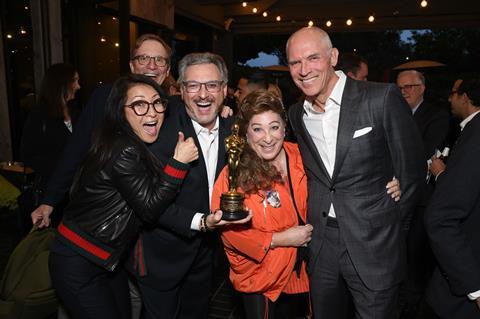 The last time King saw Hadida was at the world premiere of Bohemian Rhapsody in London. "There was a tap on the shoulder and it was Sammy, singing 'Don't Stop Me Now'. Brian May [Queen guitarist] turned round and said, 'Wow he's got a voice!'"
King brought a cheer from the room when he rounded off by saying, "Life does go on and we want to see Victor carry that torch for many years to come."
Producer Robert Kulzer, who produced the Resident Evil films with the Hadida brothers, spoke fondly of how Sammy would greet him with a song and a wet kiss on the cheek and said, "A world without Samuel – that's a real Mission: Impossible."
Participant Media chief David Linde, whose company earned six Oscars at the weekend for ROMA and Green Book, read out the letter he wrote to the Academy in support of Hadida's inclusion in the In Memoriam section.
Lionsgate motion picture group chairman Joe Drake paid tribute to the "hysterical, warm, exhausting, crazy, voracious, undeniable" Hadida and recalled how he once sold the sci-fi comedy Jack Brown Genius to his friend for one dollar. "When Sammy walked into the room," said Drake, choking up, "he was 1,000 ft tall, but when he engaged with you one-on-one you were the only person in the room."
eOne president of film and Sierra/Affinity CEO Nick Meyer called Hadida "a businessman with an artist's soul", while others who paid tribute included FilmNation founder Glen Basner, consultant and former head of New Line International Camela Galano, Peter Loehr, producer Molly Hassel, and Hadida's longtime associate Gloria Feldman.
The event was hosted by Constantin Film, eOne and Sierra/Affinity, FilmNation, IMR, Lionsgate, Millenium Films, Participant Media, and STX.
Hadida's family requests well-wishers donate funds to the construction of Synagogue Courbevoie in France. The Hadida brothers have been involved in financing a reconstruction of the building where their father David, with whom they co-founded Metropolitan some 40 years ago, was active for many years and would take the family to services.