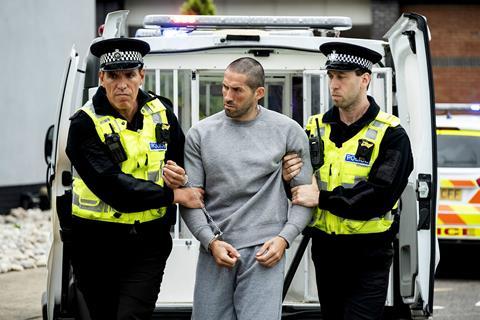 Samuel Goldwyn Films has picked up US rights from Bleiberg Entertainment to Jesse V. Johnson's gangster thriller Avengement featuring a predominantly British cast led by Scott Adkins and Craig Fairbrass.
Nick Moran, Thomas Turgoose, Kierston Wareing and Louis Mandylor from Australia round out the key cast on the thriller produced through Bleiberg's Compound B genre label.
Avengement stars Adkins as a man released on furlough from prison, who breaks away from his guards and revisits his old haunts to take revenge on the people that turned him into a cold-hearted killer.
Samuel Goldwyn Films has set a theatrical and digital release for May 24.
Johnson directed from a screenplay he wrote with Stu Small. Bleiberg's Ehud Bleiberg served as producer with Joe Karimi-Nik, while Bleiberg's Nicholas Donnermeyer is executive producer alongside Adkins.
Samuel Goldwyn Films director of marketing and PR Ryan Boring described Avengement as "a hard-hitting gangster film with fight scenes that keep you on the edge of your seat."
"Jesse allows me to play in the action genre sandbox that my fanbase expect whilst simultaneously pushing me to stretch myself as an actor," said Adkins of his sixth collaboration with the director. "Along with co-writer Stu Small he crafted a story that allowed me to create a unique and interesting character who I relished playing. Can't wait for everyone to meet Cain Burgess."
"Every film you get to make is a gift, and as such you must be sure to attempt to create something worthwhile," added Johnson. "With Avengement, Scott and I worked very carefully to author a character and scenario that was original and fresh, with action sequences that were justified and exciting without repeating anything we had done before."