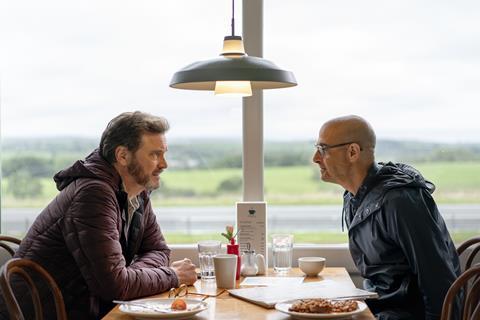 San Sebastian International Film Festival has added four new titles that will compete for the Golden Shell award at its 68th edition, set to run September 18-26.
They include Harry Macqueen's Supernova, Eduardo Crespo's We Will Never Die, Danielle Arbid's Simple Passion and Julien Temple's Crock Of Gold: A Few Rounds With Shane McGowan.
The festival has also added documentary El Gran Fellove as a special screening out of competition, which marks the second feature directed by actor Matt Dillon.
All will be world premieres and add to eight previously announced competition titles, including Thomas Vinterberg's Another Round, François Ozon's Summer Of 85 and Pablo Agüero's Akelarre.
UK drama Supernova stars Colin Firth and Stanley Tucci as a couple of 20 years, dealing with the early-onset dementia of Tucci's character. It marks the second feature of Macqueen, who also wrote the script, having previously made 2014 drama Hinterland. Producers are Emily Morgan of Quiddity Films (I Am Not A Witch) and Tristan Goligher of The Bureau (45 Years). Studiocanal will handle the UK release.
Arbid's Simple Passion previously received a Cannes Label and centres on the passionate affair of an academic and married Russian diplomat, played by Laetitia Dosch and Sergei Polunin. Pyramide International are handling sales on the France-Belgium co-production.
Temple's UK documentary about Pogues frontman Shane MacGowan is produced by Johnny Depp and combines unseen archive footage and animated artwork by Ralph Steadman to tell the story of his life.
Argentinean drama We Will Never Die marks the third feature of Crespo and follows the journey of a boy and his mother to the village where his elder brother recently died.
Out of competition, Dillon's documentary El Gran Fellove is a Mexico, Cuba and US co-production which centres on Cuban musician and singer Francisco Fellove, who died in 2013. Dillon's feature directorial debut was crime thriller City Of Ghosts, which premiered at Toronto in 2002, and he received San Sebastian's Donostia Award in 2006 to honour his career as an actor.
As previously announced, the 68th edition will open with Woody Allen's Rikin's Festival, which will play out of the competition.
SSIFF has made significant changes to how the festival will operate due to the ongoing Covid-19 pandemic. This includes a 30% reduction in the number of screenings and much of its industry activity will run online. In addition, the new WIP Latam, Europa sections and Ikusmira Berriak programme will go ahead as a mix of physical and virtual events.
Competition titles (to date)
Crock of Gold: A Few Rounds With Shane McGowan (UK)
Dir. Julien Temple
We Will Never Die (Arg)
Dir. Eduardo Crespo
Simple Passion
Dir. Danielle Arbid (Fr-Bel)
Supernova (UK)
Dir. Harry Macqueen
Akelarre (Sp-Fr-Arg)
Dir. Pablo Agüero
Courtroom 3h (Sp-US)
Dir. Antonio Méndez Esparza
In The Dusk (Lith-Fr-Cze-Port-Serb-Latv)
Dir. Sharunas Bartas
True Mothers (Jap)
Dir. Naomi Kawase
Beginning (Georgia)
Dir. Déa Kulumbegashvili
Summer Of 85 (Fr)
Dir. François Ozon
Any Crybabies Around? (Jap)
Dir. Takuma Sato
Another Round (Den-Swe-Neth)
Dir. Thomas Vinterberg