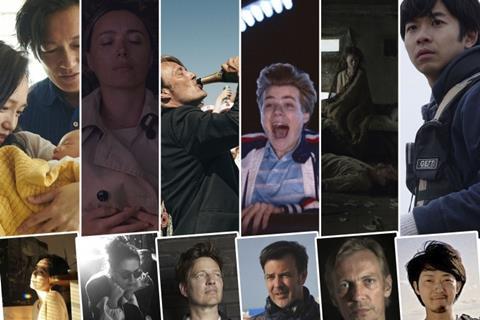 San Sebastian International Film Festival (SSIFF) has revealed the first six features that will screen in competition at its 68th edition, including five Cannes label titles.
Films that will compete for the San Sebastian's Golden Shell include: Sharunas Bartas' In The Dusk; Naomi Kawase's True Mothers; Dea Kulumbegashvili's Beginning; François Ozon's Summer Of 85; Takuma Sato's Any Crybabies Around?; and Thomas Vinterberg's Another Round.
All except Sato's new feature, which will receive its world premiere at San Sebastian, were previously in Cannes' Official Selection. It follows a commitment by Cannes Film Festival delegate general Thierry Frémaux that titles issued with its label could play in competition at San Sebastian and Toronto.
Another Round and True Mothers are among those already selected for Toronto.
San Sebastian said it would reveal the remaining titles in its official selection in the coming weeks. The 68th edition, set to run September 18-26, will open with Woody Allen's Rikin's Festival, which will play out of the competition.
2020 changes
Despite the easing of coronavirus restrictions in Spain in recent weeks, SSIFF has still made significant changes to how the festival will operate.
This includes a reduction in the number of screenings (30% fewer) and much of its activity running online, including the Co-Production Forum, Zinemaldia and Technology, round tables and masterclasses.
The new WIP Latam, Europa sections and Ikusmira Berriak programme, meanwhile, will be a mix of physical and virtual events.
Some venues will not be used, including the Velodrome and San Telmo Museum, and the scheduled retrospective of Korean films from the 50s and 60s has been pushed back until 2021.
However, there will be physical screenings of the official selection competition, New Directors, Horizontes Latinos, Zabaltegi-Tabakalera, Perlak and Nest; Culinary Zinema (a selection of films accompanied by themed dinners), Zinemira, Made in Spain and the weekend movies for kids.
First Titles in Official Selection
In The Dusk (Lith-Fr-Cze-Port-Serb-Latv)
Dir. Sharunas Bartas
Set in post-war Lithuania, in 1948, the story centres on a 19-year-old member of the partisan movement who encounters violence and betrayal while resisting the Soviet occupation. Bartas is known for titles including Frost (2017), Seven Invisible Men (2005), Few Of Us (1996) and The House (1997), all of which played at Cannes. In The Dusk is produced by Lithuania's Studio Kinema and France's KinoElektron, and is sold by Luxbox.
True Mothers (Jap)
Dir. Naomi Kawase
Kawase's adaptation of a novel by Mizuki Tsujimura follows a couple who after a long and unsuccessful struggle to get pregnant decide to adopt a baby boy. Six years later they are contacted by a woman claiming to be the child's birth mother. Starring Arata Iura (Air Doll) and Hiromi Nagasaku (The Furthest End Awaits), the film is scheduled for Japanese release on October 23 through Kino Films Co, which also produced. Playtime has already sold True Mothers to several territories including France (Haut Et Court). Kawase's Vision previously played in competition at San Sebastian in 2018.
Beginning (Georgia)
Dir. Déa Kulumbegashvili
This timely Georgian drama revolves around a young Jehovah's Witness missionary who is in shock after angry locals burn down her place of worship during a service. Her husband obtains CCTV of the attack but this puts them at odds with the police. It marks the debut feature of Kulumbegashvili, who studied film directing at Colombia University in New York and whose short Invisible Places debuted at Cannes in 2014. Wild Bunch International is handling sales.
Summer Of 85 (Fr)
Dir. François Ozon
Loosely adapted from UK writer Aidan Chambers's 1980s young adult novel Dance On My Grave, Ozon's 20th feature film centres on a 16-year-old Alexis, who is saved by 18-year-old David when he capsizes off the coast of Normandy. Alexis has just met the friend of his dreams, but will it last for more than one summer? It marks Ozon's fifth time in competition at San Sebastian, where he won the Golden Seashell in 2012 with In The House. Summer Of 85, sold by Playtime, is due to be released directly into French cinemas on July 14.
Any Crybabies Around? (Jap)
Dir. Takuma Sato
Sato's latest feature centres on a young father, who is ostracized for shaming his village on national TV and flees to Tokyo. Two years later, he returns to reconnect with his ex-wife and young daughter. Sato's first feature, Don't Say That Word, played at Busan in 2014. His latest is produced by Jun Ohinata, whose credits include Hirokazu Kore-eda's Venice 2017 title The Third Murder, and Megumi Banse, who collaborated on Kore-eda's 2018 Palme d'Or winner Shoplifters.
Another Round (Den-Swe-Neth)
Dir. Thomas Vinterberg
Vinterberg reunites with his The Hunt team including scriptwriter Tobias Lindholm and Mads Mikkelsen for his latest Danish-language film. The story follows a group of high-school teachers who embark on an experiment to uphold a constant level of intoxication throughout the working day. TrustNordisk handles sales and the film has already sold widely around the world, including to Haut et Court for France, Mongrel Media for Canada and Studiocanal for the UK; Nordisk will release in cinemas in Denmark on September 24