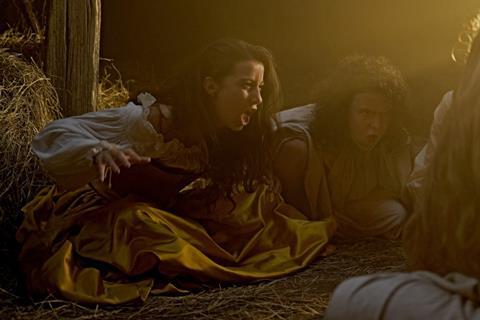 Pablo Agüero's Akelarre and Antonio Méndez Esparza's Courtroom 3H will compete for the Golden Shell at this year's San Sebastian Film Festival (SSIFF), which runs September 18 to 26.
The latest project from Argentinian director Agüero, previously at San Sebastian with competition title Eva Doesn't Sleep in 2015, is a historical witchcraft drama shot in Spanish and Basque.
Esparza also returns to competition, following Fipresci Prize winnerLife and Nothing More in 2017, with documentary Courtroom 3H, about a Florida court specialising in judicial cases involving minors. The previously announced competition films include five Cannes label titles.
Among the other Spanish projects selected for SSIFF are two series: Rodrigo Sorogoyen's six-part Movistar+ series Riot Police, playing out of competition, and Aitor Gabilondo's 8-episode HBO Europe series Patria, playing as a special screening.
As previously announced, the official selection will be opened by Woody Allen's Spain, US and Italian coproduction Rifkin's Festival, also playing out of competition.
Outside the official selection, Spanish titles in the New Directors section (for first and second films) are David Pérez Sañudo's feature debut Ane; Isabel Lamberti's Spanish-Dutch coproduction Last Days Of Spring, set in Madrid's Cañada Real shanty town; and Imanol Rayo's second feature Death Knell. Rayo won the Zinemira Award with his debut Two Brothers in 2011.
Finally, the Zabaltegi-Tabakalera section includes Juan Cavestany's An Optical Illusion about a couple stuck in a fantasy time loop, whilst Chilean director Maite Alberdi's The Mole Agent, which debuted in the World Cinema Documentary Competition at Sundance, has been selected for the Perlak section.
Official Selection - In Competition
Akelarre (Sp-Fr-Arg)
Dir. Pablo Agüero
Courtroom 3h (Sp-US)
Dir. Antonio Méndez Esparza
Official Selection – Not In Competition
Riot Police (Sp) - Series
Dir. Rodrigo Sorogoyen
Official Selection - Special Screenings
Patria (Sp) – Series
Dir. Aitor Gabilondo
New Directors
Ane (Sp)
Dir. David Pérez Sañudo
Death Knell (Sp)
Dir. Imanol Rayo
Last Days Of Spring (Neth-Sp)
Dir. Isabel Lamberti
Zabaltegi-Tabakalera
An Optical Illusion (Sp)
Dir. Juan Cavestany
Perlak
The Mole Agent (Chile-US-Ger-Neth-Sp)
Dir. Maite Alberdi