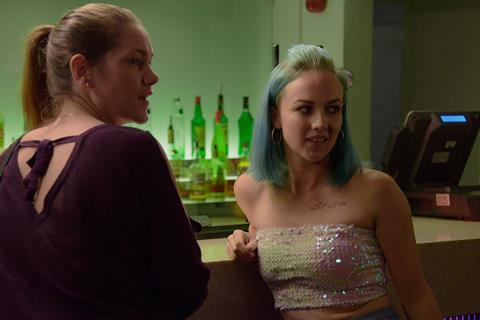 The 2019 San Sebastian Film Festival (September 20-28) has revealed the 14 first and second films set to compete for its New Directors award.
Among the titles are UK director Fyzal Boulifa's feature debut Lynn + Lucy about two best friends whose relationship is tested after a tragedy. The project, backed by BBC Films, was part of the Great 8 showcase at Cannes this year.
Titles from second- time directors include Jorunn Myklebust Syversen's Disco, with Skam star Josefine Frida Pettersen, and Delphine Lehericey's Beyond The Horizon starring Laetitia Casta and Clémence Poésy. Lehericey's Puppy Love also appeared in New Directors in 2015.
Further returning directors are Lithuania's Ignas Jonynas with Nematoma and Bulgaria's Svetla Tsotsorkova with Sister.
Eight are feature debuts and six are second films. Nine are directed by women.
The winning director and Spanish distributor in the section will receive €50,000. Last year's winner was Hiroshi Okuyama's Jesus.
The full list of films is below.
Africa (Isr)
Dir. Oren Gerner, debut
Some Beasts (Chile)
Dir. Jorge Riquelme Serrano
Disco (Nor)
Dir. Jorunn Myklebust Syversen
The Innocence (Sp) - world premiere
Dir. Lucía Alemany, debut
The Good Intentions (Arg)
Dir. Ana Garcia Blaya, debut
Jordi's Letters (Sp) - world premiere
Dir. Maider Fernandez Iriarte, debut
Beyond The Horizon (Switz-Bel)
Dir. Delphine Lehericey
Noura's Dream (Tun-Bel-Fr)
Dir. Hinde Boujeema
Lynn + Lucy (UK-Fr)
Dir. Fyzal Boulifa, debut
Nematoma (Lith-Lat-Ukr)
Dir. Ignas Jonynas
Scattered Night (S Kor) - international premiere
Dir. Lee Jihyoung, Kim Sol, debut
Sister (Bul-Qat)
Dir. Svetla Tsotsorkova
The Giant (US-Fr)
Dir. David Raboy, debut
Bonfire At Dawn (Jap)
Dir. Koichi Doi, debut