Screen spoke to festival industry chief Jovan Marjanovic about the necessity of introducing a TV forum at this year's event.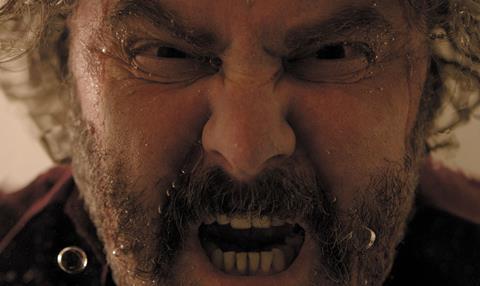 This year's Sarajevo Film Festival (Aug 12-20) is introducing an inaugural Drama forum to its CineLink industry strand, with the goal of encouraging discussion and ultimately bolstering TV production in the region.
CineLink Drama 2016 will see producers, talent and broadcasters from the region and further afield taking part in sessions, lectures and case studies that focus on the current state of high-end TV programmes, and what can be done to integrate the area's film and TV industries.
Six series in development will also be presented [scroll down to the see the list], with top talent attached including Danis Tanović (Death In Sarajevo) and Ognjen Sviličić (Nightlife). European broadcasters, distributors and SVoD and VoD operators will be in Sarajevo to see presentation pitches, and to take part in one-on-one meetings with producers.
"This has been on the table for a while," says Jovan Marjanovic, Sarajevo Film Festival's head of industry, who adds that "high-end TV is gaining popularity" in the region and that the time was right for the festival to put more emphasis on the medium. "We see huge potential for growth of this sector in our region, particularly as our film and TV sectors are not yet as integrated as their counterparts in the rest of Europe.
"Major talent is embracing high-end TV, it's a place where they can build bigger story arcs and express their visions. It's considered the small screen but it's actually a bigger canvas. Festivals should do what they do best and make an event out of it," he comments.
As part of the festival programme this year, the first two episodes of Croatian series The Paper [pictured] will be screened, a politically engaged show about a left-wing newspaper that gets taken over a by a right-wing mogul. The show is directed by Dalibor Matanic, whose 2015 feature The High Sun won the Un Certain Regard Jury Prize in Cannes, and counts top talent from the area among its cast, including Serbian actress Branka Katic (Public Enemies).
However, Marjanovic says that high-end TV production in the region has been "really slow so far" and that "only a handful of high-end shows have come out".
"We also offer a place for discussing burning industry issues in the region. Local quality drama television is sought-after content, but development and production costs are too high to be financed through revenues from our small domestic markets," he adds.
Marjanovic says that current financing models, which largely rely on broadcasters, don't allow for the required level of co-production, and that producers need to look to the Scandinavian model for inspiration, which has seen shows such as The Killing broadcast around the globe and licensed for remake.
He notes that The Paper received funding from both national television and film funds in Croatia, and that models that have worked for the regional film industry, including co-production, should also be applied to the TV industry. "The forum will be a place to discuss changing business practices," he adds.
HBO
One major event plotted for CineLink Drama will be a call for projects for a new initiative from major American network HBO, the company behind Game Of Thrones, which has shot scenes in Croatia, and productions from the region including Aranyélet, Mamon, Pakt, Wataha and Shall We Kiss.
HBO Europe's executive producer of drama development Steve Matthews will be in town to unveil a proposal that could have a significant effect on production of high-end drama in the region. First Draft Contest will be presented as part of the forum on Aug 18.
Further events taking place as part of CineLink Drama include a masterclass called Fundamentals of Writing for Television with Mad Men and True Blood scribe Robin Veith, a presentation of TV programming support from Creative Europe MEDIA's Zoran Galic, anda session from Petri Kemppinen, CEO, Nordisk Film & TV Fond, on Nordic co-production and co-financing models for TV drama series.
CineLink Drama is presented in collaboration with the Göteborg Film Festival – NFM TV Drama Vision, Drama Series Days / Berlinale, MIDPOINT, HBO Europe (HBO Adria), Creative Europe MEDIA Desk Bosnia and Herzegovina.
CineLink Drama projects:
Golden Era / Zlatno Doba (Serbia)
Period drama, 12 x 45 min,
Creators: Zvonimir Simunec, Vladimir Andric
Producer: Zvonimir Simunec
Production Company: Soul Food Films, Intermedia Network
Silence / Šutnja (Croatia)
Crime drama, 5 x 60 min, Croatian
Creators: Drago Hedl, Davor Šišić
Producers: Nebojša Taraba, Miodrag Sila
Production company: Drugi Plan
Takeover (Croatia)
Political soap opera, 10 x 60 min, English
Creator: Ognjen Sviličić
Thousand Dinars / Jebo sad hiljadu dinara (Serbia/Croatia)
War drama, 12 x 55 min, Serbian/Croatian/Bosnian
Creators: Vladimir Andric based on a book by Boris Dežulovic
Producers: Branislav Trifunovic, Martin Milinkovic
Produced by: Hit & Run (Serbia), MRTN Media (Croatia), Art & Popcorn (Serbia)
Tito Is Dead / Tito Je Umro (Serbia)
Political crime drama, 8 x 60 min, Serbian
Based on the bestselling novel by Mirjana Novakovic
Producers: Milena Garfield, Uliks Fehmiu
Production company: West End Production
9034 (Bosnia and Herzegovina)
Crime drama, 8 x 60 min, Bosnian/English
Creators: Amra Bakšić Čamo, Danis Tanović
Production Company: SCCA/pro.ba