Feature documentary Honeyland by Macedonian filmmakers Ljubomir Stefanov and Tamara Kotevska has become an unexpected hit this year, including winning three awards at Sundance, where it premiered in January. The film screened in competition at Sarajevo Film Festival this week.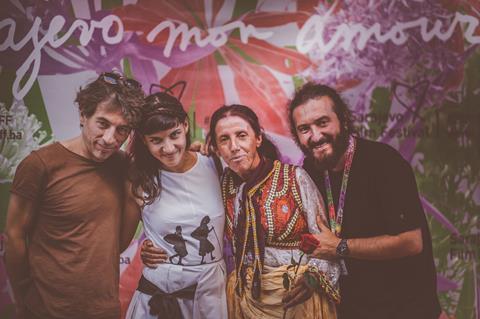 In addition to picking up awards at almost every festival it has travelled to, the film has been acquired by German sales agent Deckert Distribution and released in July in the US by Neon, opening with a $15,000 per theatre average. Meanwhile, Kotevska has been signed by United Talents Agency.
Honeyland tells the story of 50 year-old beekeeper Hatidze in central Macedonia whose quiet life in a deserted village with her ailing mother is interrupted when a nomadic family with seven children and 150 cows moves in next door, threatening to destroy the delicate ecological balance.
Screen spoke to the film's two directors as well as cinematographer Samir Ljuma.
How did you find this story and how did you get the film made?
Stefanov: Before this film we made another, smaller film, so we are used to working as a team. During the editing of this previous film, we received a proposal from a client to do research for a short documentary for an environmental project in the central part of Macedonia.
When we got to this area, which is long-abandoned and isolated, we found the beehives and soon after, Hatidze herself. We had made an agreement with our client to produce a short documentary, but when we started working with her, for the first couple of months we were only following her activities and her relationship with her mother. Soon it was clear that we would have a bigger film and that it would be about her, and from the initial idea to stay in this region for a couple of months, it turned into three years of filming.
The shooting of the whole film was financed by the environmental project. After applying to the work in progress programme at Sarajevo CineLink, at the end of the second year, we applied to the Macedonian Film Agency fund for post-production. After that, we completed the financing from the San Francisco SFFIlm Documentary Film Fund.
So the film is funded from three main sources: the environmental project which covered the production, the Macedonian Film Agency which covered a part of the editing, and the San Francisco fund covered the rest of editing and post-production.
How did your participation at CineLink influence the project?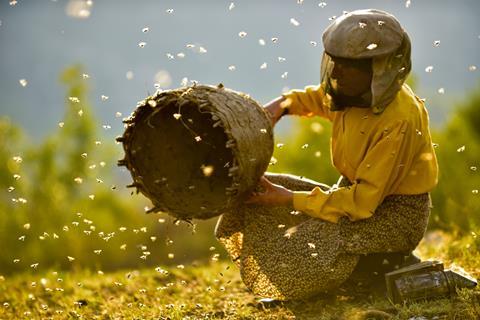 Kotevska: We first took part in CineLink's Work in Progress in 2017, and then the professionals who were attending showed a lot of interest so we also presented it at the Docu Rough Cut Boutique a couple of days later.
The film's festival life started at CineLink. It gave us the first directions, it was the first evidence of how big a potential the film had. It also directed us in our future steps: where to apply, for starters. It was at CineLink Work in Progress in 2017 when we first communicated with the Sundance programmer who told us this would be an appropriate film for them.
We won the TRT Award at CineLink. That event had a very big influence on our work. It was motivating and instructive.
Honeyland has become one of the biggest documentary hits of the year - did you expect that?
Ljuma: We did not expect that at all. We applied to Sundance with a rough cut before we finished the sound design in order to meet the deadline, and we saw in the stats that they watched the film 22 times. But for two weeks there was no answer. So we started applying to other festivals. There had been no interest from sales agents.
A day before we received the official email from Sundance, suddenly we started getting many emails from sales agents. For all of us, because we didn't have any experience with big festivals, it was a surprise and a good lesson for future projects: if you have a good movie, festivals and sales agents start coming to you.
For the application to the SFFIlm Documentary Film Fund, we already had the full rough cut, so we sent them a link in addition to excerpts that they required. Someone at the fund probably saw the cut, and it was really important because they are based in the Bay Area and they are well connected to the industry, and they must have recommended the film all around.
How is it for you as European documentary filmmakers to get experience of the US system of distribution and promotion?
Stefanov: There is a huge difference in organisation and speed of how things are developing. In Europe, for many things you need months, and in the US it happen in minutes.
For example, the release in the US was planned for July 26 in New York City and Los Angeles. We had a travel schedule starting on 25th, but some two weeks earlier, we met a guy who is one of the members of the documentary branch of the Academy.
We showed him the film, he went back to the US, contacted our distributor and they rescheduled our travel and screenings. We started five days earlier for three screenings for Academy members in LA, and then went to NY for the official release, and then immediately we had screenings for New York-based Academy members. So it was very, very fast.
How has this success influenced your careers?
Ljuma: After Sundance we started feeling what it means individually for everyone. Tamara got signed with a talent agency, Fejmi is already working on a new project by another Sundance winner, the director of One Child Nation. I started getting offers from international crews, which I think for cinematographers usually comes later on, because the process of production in documentary is longer. And Atanas already got offered several projects to work on as editor.