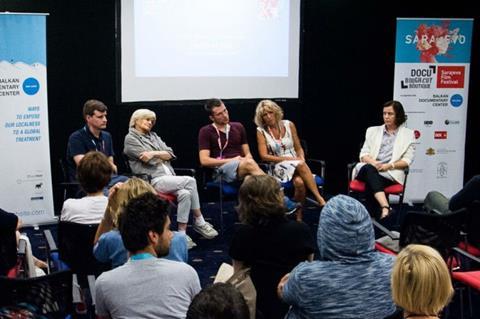 Docu Rough Cut Boutique, the documentary workshop created by Sarajevo Film Festival has selected five film projects for its 11th edition.
The 2021 workshop run as three modules consisting of group and individual meetings, as well as broader exposure to the market and industry. The first module will be conducted online, starting on March 22.
Countries represented in this year's selection include Georgia, Serbia, Slovenia and Croatia. The workshop focuses exclusively on documentary films currently in post-production from South East Europe and the Caucasus region.
According to the Boutique, the "slowing down" necessitated by the Covid-19 pandemic across the industry has allowed filmmakers time to work on their projects, resulting in "numerous applications from all over the region."
For the first time, programme directors Rada Sesic and Martichka Bozhilova organised in-depth interviews with the best applicants to aid the selection process.
Earlier this week the festival announced German filmmaker Wim Wenders as the recipient of an honorary Heart of Sarajevo award; and confirmed that the festival is currently scheduled to run as a physical event, from August 13-20.
Sarajevo Docu Rough Cut Boutique 2021 selection
Atonal Glow (Geo) dir. Alexandre Koridze, prod. Alexandre Koridze, prod company: Spark
Bottlemen (Ser-Slovenia) dir. Nemanja Vojinović, prods. Marija Stojnić, Nemanja Vojinović, prod company: Rt dobre Nade
Cent'Anni (Slovenia-Pol-It) dir. Maja Prelog, prod. Rok Biček, prod company: Cvinger Film
My Dad's Lessons (Cro-Slovenia) dir. Dalija Dozet, prod. Dana Budisavljević, prod company: Hulahop
No Place For You In Our Town (Bul) dir. Nikolay Stefanov, prod. Ralitsa Golemanova, prod company: Smarty Pants Shooter