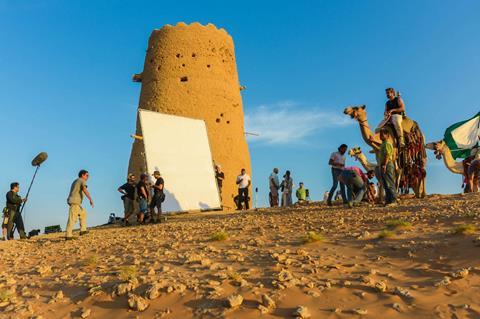 The first full-service production studio has launched today in Saudi Arabia, as the country's Vision 2030 transformation plan continues to take shape.
Nebras Films aims to "develop and produce a diverse portfolio of feature films, TV series, documentaries and advertising content".
The studio has a 42,000 square-foot production facility, which houses post-production services alongside art workshops, 3D animation, audio, casting, crew, equipment, props and sets.
The facility recently wrapped production on its first international co-pro Born A King, starring Ed Skrein, directed by Agustí Villaronga and produced by Andres Gomez.
Nebras has its headquarters in Riyadh, and backed by Alnafees Holding Company. Alnafees are parent to several companies involved with the Vision 2030 transformation plan, which looks to create a Saudi Arabia with revenue means outside of oil.
Nebras' general manager Niko Ruokosuo said "We're seeing unprecedented levels of interest in the Kingdom, with the studio rapidly becoming the epicentre for production, and we look forward to welcoming filmmakers looking to maximize the region's mass-market opportunity."
This month Saudi Arabia ended its ban on public cinema screenings, with Black Panther becoming the first film to be openly screened in the country for 35 years.