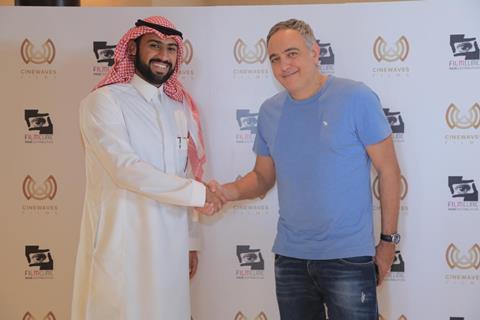 Riyadh-based distributor CineWaves, one of the first Saudi companies to move into arthouse films, has signed an artistic cooperation pact with Egypt's Film Clinic Indie Distribution.
Under the deal, CineWaves will handle the Saudi release of Film Clinic Indie Distribution titles and there are plans for the two companies to cooperate in other ways in the future.
The first titles covered by the agreement include Egypt's 2022 Oscar submission Souad, Lebanon's submission Costa Brava, Lebanon, and Egyptian 2021 Cannes Critics' Week winner Feathers.
Cairo-based Film Clinic Indie Distribution is the distribution arm of Egyptian producer Mohamed Hezfy's film company Film Clinic. The label has a focus on independent films that have had a successful run on the international film festival circuit.
Recent titles on the Film Clinic Independent Distribution slate span Costa Brava, Lebanon, 200 Meters, You Will Die At Twenty, Certified Mail, with early past acquisitions including pioneering Saudi feature Barakah Meet Barakah.
What is CineWaves?
Fast-growing Saudi arthouse distribution label CineWaves was launched in 2019 by Saudi film industry pioneer Faisal Baltyour. Its releases to date include the first Saudi box office hit The Son Of Ghosts by Sohayb Godus, Shahad Ameen's 2019 Venice selection Scales and Tunisian 2021 Oscar nominee The Man Who Sold His Skin.
Baltyour and Hefzy announced the partnership during the Red Sea International Film Festival (Dec 6-15). "Our goal is to build a successful cinematic community that reaches the world and is open to everyone who is interested in the film industry at the local and international levels," said Baltyour.