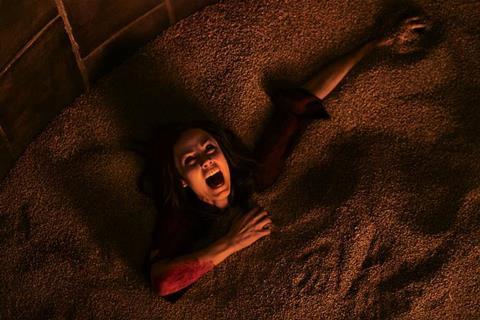 OCTOBER 30 UPDATE: The Saw franchise returned with a whimper after seven years as Lionsgate's Jigsaw opened top of a sluggish Halloween session on $16.6m for the second lowest opening in the 13-year-old series.
In another session of mediocre debuts, only Magnolia Pictures stood out with an impressive bow for Palme d'Or winner The Square, while Thank You For Your Service and Suburbicon flopped in the top 10.
Returning to the Jigsaw debut, only Saw VI opened lower than this and even that was close as $14.1m in 2009 equates to $16.1m in real terms. Tobin Bell reprises his role as the murderous games-player Jigsaw.
Yet the film, which opened in 2,941 theatres, is heading towards profit given the $10m production cost excluding P&A and the early $9.5m from international markets.
Lionsgate secured a one-two at the top of the charts as Tyler Perry's Boo 2! A Madea Halloween slipped 52.6% in its second session on $10.1m for $35.6m and is looking good considering the $25m production cost excluding marketing costs.
Warner Bros' costly adventure Geostorm in third place fell 56.9% in its second weekend, adding $5.9m for $23.8m. International box office is saving executives' blushes and stands at $113.7m for a $137.5m global tally.
In fifth place, Alcon Entertainment's troubled Blade Runner 2049 is inching towards the $100m mark and stands at $81.5m after a $4.1m session. Both North American and international performances have disappointed and the global tally for the $150m sci-fi has reached $223.1m.
DreamWorks' war drama Thank You for Your Service starring Miles Teller arrived in sixth place on a lowly $3.8m in 2,054 venues via Universal and reportedly cost $20m to produce. George Clooney's home crime caper Suburbicon starring Matt Damon and Julianne Moore and based on a screenplay by Joel and Ethan Coen opened via Paramount in ninth place on a weak $2.8m from 2,046.
This was Clooney's lowest debut as director and the second worst wide debut in Damon's career behind All The Pretty Horses on $1.3m in 2000 via Miramax. Paramount paid $10m for US rights in Berlin last year and Black Bear Pictures financed the film.
Magnolia Pictures delivered a triumphant debut for Ruben Östlund's Palme d'Or winner The Square as the satire opened at number 35 in two venues on $74,233. Christian drama Let There Be Light opened in 11th place via Atlas Distribution on $1.7m from 373. Open Road released thriller All I See Is You starring Blake Lively and Jason Clarke on a poor $144,076 from 283 at number 28.
Box office for the top 12 amounted to $61.3m, down 25% on last weekend and down 21.4% on the comparable session in 2016. This week's wide release is Marvel Studios' Thor: Ragnarok through Buena Vista. Chris Hemsworth, Tom Hiddleston, Cate Blanchett, Idris Elba, Marc Ruffalo, Anthony Hopkins and Tessa Thompson star.
Confirmed top 10 North America October 27-29, 2017
Film (Dist) / Conf wkd gross / Conf total to date
1 (-) Jigsaw (Lionsgate) Lionsgate International $16.6m –
2 (1) Tyler Perry's Boo 2! A Madea Halloween (Lionsgate) Lionsgate International $10.1m $35.6m
3 (2) Geostorm (Warner Bros) Warner Bros Pictures International $5.9m $23.8m
4 (3) Happy Death Day (Universal) Universal Pictures International $5.1m $48.4m
5 (4) Blade Runner 2049 (Warner Bros) Sony Pictures Releasing International $4.1m $81.5m
6 (-) Thank You For Your Service (Universal) Universal Pictures International $3.8m –
7 (5) Only The Brave (Sony) Sony Pictures Releasing International $3.5m $11.9m
8 (6) The Foreigner (STX) STX International $3.4m $29.1m
9 (-) Suburbicon (Paramount) Bloom $2.8m –
10 (7) It (Warner Bros) Warner Bros Pictures International $2.5m $323.9m