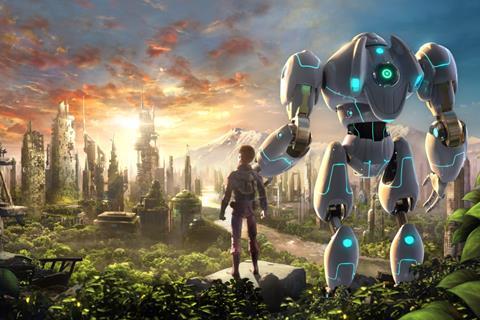 UK sales outfit SC Films International has acquired world sales rights to animated adventure Stonerunner and will launch the title at next month's American Film Market (AFM, November 9-13).
The family title will begin pre-production in Australia and New Zealand in December. It is a co-production between New Zealand's Huhu Animation Studios, and Accent Media Group and FG Film Productions in Australia.
It is scheduled for a December 2022 delivery, ahead of a 2023 theatrical release.
Set in a distant future where the world is slowly being rebuilt after machines destroyed the planet, Stonerunner is an action-adventure in which a young boy must fight for his family and their freedom with the help of a benevolent robot.
Steve Trenbirth will direct from a script written by Paul Western-Pittard and Ray Boseley, with Trevor Yaxley, Peter Campbell and Anthony I. Ginnane producing. Simon Crowe, Henry Wong, Caroline Campbell and Anthony J. Lyons will act as executive producers.
Trenbirth directed 2003 animated sequel The Jungle Book 2 for Disney, and has credits as animation director on sequels Lady And The Tramp 2: Scamp's Adventure, The Lion King 2: Simba's Pride and Aladdin 2: The Return Of Jafar.
"I believe Stonerunner is another commercial family adventure that will continue our success in the animation space after Gnome Alone, Charming and White Fang," said Crowe, managing director of SC Films International.
"From scribbles on a placemat to a full-blown sci-fi adventure, we're looking forward to blurring the boundaries of animation technology and great storytelling," added Accent Media managing director Campbell.
SC Films has continued production on its slate of animated features throughout the pandemic, with upcoming titles including Marmaduke, Dragonkeeper, My Father's Secrets and Best Birthday Ever.