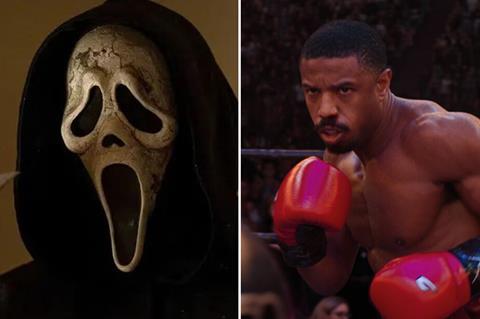 World box office March 10-12
| Rank | Film (distributor) | 3-day (world) | Cume (world) | 3-day (int'l) | Cume (int'l) | Territories |
| --- | --- | --- | --- | --- | --- | --- |
| 1. | Scream VI (Paramount) | $67.1m | $67.1m | $22.6m | $22.6m | 54 |
| 2. | Creed III (Warner Bros) | $51.1m | $179.3m | $24m | $78m | 76 |
| 3. | 65 (Sony) | $19.5m | $20.8m | $7.2m | $8.5m | 33 |
| 4. | Post Truth (various) | $16.9m | $20.3m | $16.9m | $20.3m | 1 |
| 5. | Ant-Man And The Wasp: Quantumania (Disney) | $16.8m | $447.5m | $9.8m | $249.6m | 53 |
| 6. | Revival (various) | $10.3m | $11.3m | $10.3m | $11.3m | 1 |
| 7. | Cocaine Bear (Universal) | $7.9m | $65.6m | $1.7m | $14m | 53 |
| 8. | Suzume (various) | $7.7m | $110.6m | $7.7m | $110.6m | 5 |
| 9. | Avatar: The Way Of Water (Disney) | $6.9m | $2.2bn | $4.2m | $1.6bn | 53 |
| 10. | Champions (Universal) | $5.9m | $5.9m | $0.8m | $0.8m | 4 |
Credit: Comscore. All figures are estimates.
'Scream VI' posts franchise record debut
Paramount and its producer partners are celebrating the successful launch of Scream VI, posting record debut box office for the franchise.
This direct sequel to 2022 reboot Scream has opened with an estimated $44.5m in North America and $22.6m in 53 international markets, combining for $67.1m worldwide.
Last year's Scream began with $33.8m in North America and $17.9m in international markets, combining for $51.7m worldwide.
Scream revived the franchise 11 years after Scream 4, introducing a fresh batch of teen characters, but also benefiting from the presence of legacy players Neve Campbell, Courteney Cox and David Arquette.
The success of Scream VI suggests that fans have embraced those new characters – or at least the ones who survived the action of Scream, who have relocated to New York City for the new film. Among the key legacy trio, only Cox returns for Scream VI. Scream's Matt Bettinelli-Olpin and Tyler Gillett return as directors, as do James Vanderbilt and Guy Busick as writers.
Among international markets, UK/Ireland led the way with an estimated $3.6m including previews – a franchise record and 22% above last year's Scream. France is right behind with a five-day estimated $3.5m – which is 110% ahead of the Scream opening.
Australia and Mexico (both $2.0m), Brazil ($1.8m) and Germany ($1.6m) all opened at least 45% ahead of Scream.
Scream VI achieved its uptick despite missing out on Russia, which ranked fourth among international markets for Scream's opening weekend in January 2022 with $1.3m – and reached a $3.1m total.
The new film is chasing the $137.7m lifetime total of last year's Scream. Among the earlier four films, the biggest remains the original Scream, which reached $173.0m worldwide in 1996, including $103.0m in North America.
'Creed III' beats lifetime total of 'Creed' after two weekends
UPDATED: Creed III delivered second-weekend estimated takings of $27.2m in North America (via MGM/United Artists Releasing, down 53%) and a confirmed $24.1m in 75 international markets (via Warner Bros, down 43%) – combining for an estimated $51.3m worldwide.
After two weekends of play, the totals are now a confirmed $101.4m in North America and $78.3m for international – and thus $179.7m worldwide. That's already ahead of the lifetime total of 2015's Creed ($173.6m), albeit still behind the $214.2m lifetime achieved by Creed II in 2018.
Among Creed III's international markets, France leads with $3.6m – holding onto the top spot and resisting the challenge of Scream VI. UK/Ireland is next with $3.2m – top of the box office for the three-day weekend, ie if Scream VI's previews are omitted.
Those two territories remain top for international cumulative totals (with $12.4m and $11.3m respectively), ahead of Germany ($7.9m), Mexico ($5.9m) and Italy ($5.8m).
Japan releases on May 26.
'65' lands in third place globally with $19.5m
Sony sci-fi thriller 65 has landed in third place at both the North America and global box office on its opening weekend. Estimated takings are $12.3m in North America, $7.2m in 32 international markets, and $19.5m worldwide. The cumulative total including earlier release in select markets is $20.8m.
The Columbia Pictures film stars Adam Driver as an astronaut stranded with a child on a mysterious planet – which turns out to be Earth, 65 million years ago, where lethal dinosaurs roamed. Scot Beck and Bryan Woods (who co-wrote A Quiet Place with John Krasinski) write and direct. Production budget is a reported $45m.
Among international markets, UK/Ireland led with an estimated $1.5m, ahead of Mexico with $1.1m.
There are many key territories yet to release including France (March 15), Spain (March 24), South Korea (April 20), Italy (April 27) and Japan (May 26).
2023 global box office rises 30% above 2022
Last week saw Gower Street Analytics publish its latest survey of the global box office – showing an estimated $6.2bn as of March 4. That is an encouraging 30% uptick on 2022 at the same stage of the year ($4.77bn), but 18% behind the average of the last three pre-pandemic years (2017-2019).
Among markets that are actually ahead of the pre-pandemic average for this period are China, Japan, Hong Kong, Netherlands and Austria.
North America is 36% behind the three-year pre-pandemic average for the period, but 43% ahead of 2022 at the same stage of the year.
New releases boost China box office
Two new Chinese titles – Ruyi Films' Post Truth and Beijing TM Pictures' Revival – have provided the country with the biggest new releases since the late-January Lunar New Year holiday, apart from Marvel's Ant-Man And The Wasp: Quantumania in February.
Post Truth has debuted with $17.0m (and $20.5m cumulative) and Revival has $10.3m (and $11.4m cumulative). (Quantumania began with $19.4m in China, and now stands at $39.0m there.)
Chengpeng Dong (Jian Bing Man) directs and co-writes comedy drama Post Truth, about a cemetery salesman dealing with slanderous rumours that his cemetery is facing demolition.
Mukain Lai (TV series Detective Chinatown) directs and co-writes crime thriller Revival, based on a novel by Japanese author Keigo Higashino.
According to data gatherer Artisan Gateway, China box office is running at $2.11bn for the year so far, which is 7.8% up on 2022 at the same stage.