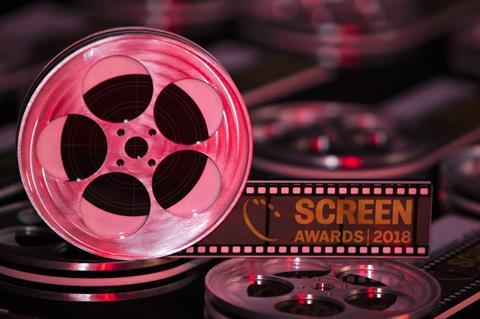 The shortlist for the 2019 Screen Awards has been announced, with Picturehouse leading the way with 13 nominations. Curzon follows closely with 11 nominations.
The most nominated release is Curzon's The Souvenir with five nods.
The awards recognise excellence in UK film distribution, exhibition, marketing, publicity and brand partnerships.
The shortlist will now be debated by an independent jury of industry experts, who select the final winners. The judges are listed here.
The winners will be announced at an awards ceremony on November 28 at The Ballroom Southbank in London.
For more information, visit the Screen Awards website.
Last year's awards saw 20th Century Fox, Disney and Curzon Artificial Eye all win big.
Brand Partnership of the Year
Bohemian Rhapsody and Pearl & Dean – Pearl & Queen, Pearl & Dean
The Grinch and Pertemps Recruitment – Turn Your Frown Upside Down, Brand Culture
Marvel Studios' Captain Marvel and Vodafone, The Walt Disney Company
Mary Poppins Returns and YOOX, The Walt Disney Company
Men In Black: International and Beverly Hills Formula, Lime Communications
Mrs. Lowry & Son and The Lowry, Vertigo Releasing
Spider-Man: Into The Spider-Verse and Vodafone, Premier
Sundance Ignite and Picturehouse, Picturehouse Cinemas
Wonder Park and Into Film, Into Film & Paramount Pictures
X-Men: Dark Phoenix and Wella Shockwaves, Lime Communications
Cinema of the Year from a company with 24 screens or under Sponsored by MUBI Go
Campbeltown Picture House
The Castle Cinema, Hackney
The Hippodrome Cinema, Bo'ness
Alhambra Cinema, Keswick
Parkway Cinema, Beverley
The Prince Charles Cinema, London
Queen's Film Theatre, Belfast
Rio Cinema, Dalston
Cinema of the Year from a company with 25 screens or over Sponsored by Comscore
Ashford Picturehouse
Cineworld, Newcastle-upon-Tyne
Little Theatre Cinema, Bath
Odeon Luxe Leicester Square
Savoy Cinema Penzance
West Norwood Picturehouse
Cinema Marketing Campaign of the Year Sponsored by Movio
12 Days of Christmas at Picturehouse Cinemas, Picturehouse Cinemas
Amazing Grace and Gospel Choir Campaign, Bertha DocHouse
A Christmas Wish, Cineworld
Cineworld Unlimited Campaign, Cineworld
Odeon Luxe, Odeon
Picturehouse Membership – A Night at the Cinema, Picturehouse Cinemas
Rio Cinema Dalston Young Audiences Initiative, Rio Cinema
Showcase 30th Birthday, Showcase Cinemas
Distributor of the Year Sponsored by EIKON
Curzon Artificial Eye
Dartmouth Films
Evolutionary Films
ICA Cinema Distribution
Modern Films
Paramount Pictures UK
Picturehouse Entertainment
Vertigo Releasing
Marketing Team of the Year
Curzon
Paramount Pictures UK
UPHE Content Group
Event Cinema Campaign of the Year
BTS: Burn The Stage The Movie, Trafalgar Releasing
Coldplay: A Head Full Of Dreams, Trafalgar Releasing
Holy Mountain Bo Ningen Live At The Rio, Rio Cinema
The King & I: From The London Palladium, Trafalgar Releasing
They Shall Not Grow Old, Trafalgar Releasing
Yuli – The Carlos Acosta Story: Live From The Royal Opera House, Modern Films
Poster Design of the Year
Blinded By The Light, AllCity Media
A Clockwork Orange, Warner Bros., British Film Institute & Territory Studio
Dirty God, Modern Films and Coffee & Cigarettes
In Fabric, Julian House, Intro UK & Curzon
Liam Gallagher: As It Was, Yolk Creative London & Altitude Films
Out Of Blue, Picturehouse Entertainment
Ray & Liz, New Wave Films
The Souvenir, Sam Ashby & Curzon
Mrs Lowry & Son, Vertigo Releasing
PR Campaign of the Year
Apollo 11, UPHE Content Group & Organic
Can You Ever Forgive Me?, Organic
Diego Maradona, Organic & Altitude Films
The Favourite, Premier & 20th Century Fox
Five Feet Apart, Vertigo Releasing
For Sama, Republic Distribution & Way To Blue
Mandy, UPHE Content Group & Organic
Rocketman, Paramount Pictures UK
The Souvenir, Curzon
The Wife, Organic & Picturehouse Entertainment
Rising Star Sponsored by Filmarket Hub
Corrina Antrobus, Picturehouse
Jake Cunningham, Channel 4/Little Dot Studios
Wayne D'Cruz, Dartmouth Films
Molly Goring, Strike Media
Rosie Hewlett, Picture Production Company
Nicola Lampard, Trafalgar Releasing
Katy Sharp-Watson, Organic
Caitlin Smith, Curzon
Documentary Film Release of the Year
Apollo 11, UPHE Content Group & Dogwoof
Children Of The Snow Land, Dartmouth Films
Diego Maradona, Altitude Film Distribution
Five Seasons: The Gardens Of Piet Oudolf, Dartmouth Films
For Sama, Republic Film Distribution
Hale County This Morning, This Evening, ICA Cinema Distribution
Nae Pasaran!, Cosmic Cat
The Ponds, Dartmouth Films
Foreign-Language Film Release of the Year
Birds Of Passage, Curzon
Capernaum, Picturehouse Entertainment
Children Of The Snow Land, Picture On The Wall Productions
Diego Maradona, Altitude Film Distribution
Woman At War, Picturehouse Entertainment
Theatrical Campaign of the Year 199 sites and under at widest point of release Sponsored by Deluxe Technicolor Digital Cinema
At Eternity's Gate, Curzon
Bait, BFI
The Keeper, Parkland Entertainment
Mandy, UPHE Content Group
Marianne And Leonard, Dogwoof & UPHE Content Group
The Souvenir, Curzon
Theatrical Campaign of the Year 200 sites and over at widest point of release Sponsored by Motion Picture Solutions
Fighting With My Family, Lionsgate UK
John Wick: Chapter 3 – Parabellum, Lionsgate UK
Rocketman, Paramount Pictures UK
Trailer of the Year Sponsored by Powster
Apocalypse Now, Silk Factory
Bait, BFI & Intermission Film
Beats, Altitude Films & Intermission Film
Capernaum, Picturehouse Entertainment
Diego Maradona, Altitude Films & Intermission Film
Disobedience, Curzon
First Man, Ignition Creative
Fisherman's Friends, Chinagraph
The Hole In The Ground, Wildcard Distribution & Intermission Film
Irene's Ghost, Coffee & Cigarettes
The Keeper, Parkland Entertainment
Stanley Kubrick Season, British Film Institute
Untouchable, Silk Factory
Wild Rose, The Picture Production Company
The Souvenir, Curzon
Gamechanger
The F-Rating, FilmBath
FilmChain
Khalid: Free Spirit fan event, Trafalgar Releasing
MUBI GO
Picturehouse Education Programme
Reclaim The Frame, Birds Eye View Films
A new type of Reel Cinema, Reel Cinemas
International Sales Deal for a UK Film
Cold War, Protagonist Pictures
Mr. Jones, WestEnd Films
Ordinary Love, Bankside Films
The Souvenir, Protagonist Pictures
Vengeance (I Am Vengeance), Evolutionary Films
Whitney, Altitude Film Sales
Best Post-Production House
Storm
Warner Bros. De Lane Lea