The Screen International Best Pitch Award at Tallinn's Baltic Event last December went to Finnish producers Kaarle Aho and Kai Nordberg of Making Movies Oy who were pitching Impaled Rektum with the feature debutants Jukka Vidgren and Juuso Laatio [pictured].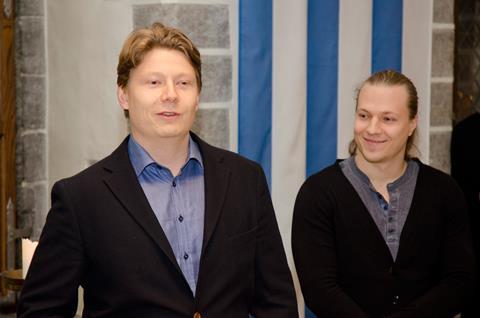 The €1.4m production about a young loser trying to overcome his stage fright and other fears by leading the worst heavy band of Finland, Impaled Rektum, is the second project from Helsinki-based Making Movies to have won Screen's Best Pitch Awtalk ard during the Baltic Event co-production event
Aho and Nordberg had previously been selected with Petri Kotwica's Rat King which then went on to premiere at the Tribeca Film Festival in 2012.
The new project has already received two tranches of development support from the Finnish Film Foundation and a € 250,000 commitment from Film Camp Norway.
¨We'd been thinking for a long time that we should do something like a comedy because most of what we've done on the feature film side has been rather serious,¨ says producer Kaarle Aho who first met Jukka Vidgren, one half of the directorial duo, during a visit by Finnish producers and film-makers to Moscow in 2013.
¨The fact that the project is so anarchistic and edgy was important for us,¨ Aho adds. ¨We are now looking for a third co-producer for the postproduction - which could be Sweden or Germany - and will shoot at locations in Finland and Norway.
As Impaled Rektum is ¨a summer film¨, principal photography is planned for this summer or summer 2016, depending on when the financing is in place.
Moving into feature films
¨Feature films have always been the our aim,¨ says Jukka Vidgren. ¨We started out making other projects to get the experience and know-how to be film professionals. It felt that the time for moving to features was right.¨
¨The idea to make a film about a metal band came from many places, but one of them was our background in doing music videos,¨ he continues. ¨We've made a lot of metal videos, mostly because the metal scene is really big here in northern Finland where we live.¨
¨But, more than the metal music, we really liked the guys making the music,¨ Vidgren explains. ¨Most metal heads are really nice and hearty people, contrary to what you might think - at least in Finland. The biggest inspiration for us was the enthusiasm and love these guys have for the metal genre. Most metal bands will not get rich or famous playing this type of music. The music the band plays in the film is extreme metal, which most people wouldn't probably consider music at all, but they don't play it because they are interested in buying expensive cars or to be in magazine covers; they are genuinely interested in the music.¨
When asked to describe Impaled Rektum, he suggests that they are ¨a symphonic, doomish, post-apocalyptic, Christ-abusing extreme war pagan, Fennoscandian metal band¨ and cites films such as This is Spinal Tap, Blues Brothers, The Commitments and Wayne's World as inspiration and points of reference for the film.
Distinctive humour
¨Impaled Rektum is a comedy, but it also has an adventure feel to it,¨ Vidgren observes. ¨From the beginning, we set out to make a very entertaining film, so it takes more from the Hollywood films of our youth than from Finnish cinema. But, of course, there is this distinctive Finnish humour that comes from living in the north of Finland.¨
He points out that the main characters in the film are in their mid-20's, ¨so it will be a very interesting mix of fresh new actors and industry veterans from Finland. The music the band plays in the film will be extreme metal, but otherwise the soundtrack is going to be a bit more easier on the ears. It's going to be a mix of metal soundtrack and [original] score.
Vidgren and Laatio have collaborated on many projects together through their production company Mutant Koala Pictures since studying Visual Communications and Media at Oulu University of Applied Sciences .
While Vidgren has focused on directing and producing, Laatio has served as the DoP on such shorts as their 35-minute comedy Dr Professor's Thesis of Evil and the Sami-language Áigin as well as commercial and music videos. But their feature-length debut will see them hiring an outside cinematographer so that they can both devote themselves to directing.
Potential to travel
The duo both believe that Impaled Rektum has the potential to ¨travel¨ and export Finnish humour to a wider international audience. Indeed, they were encouraged by the reaction to the comedy and its humour from script consultants from around Europe and further afield when they attended the Sources2 screenwriting workshop.
¨And I guess winning the Best Pitch aAward in Tallinn also tells something about the humour in the film,¨ Vidgren says. ¨So, yes, we think that this film could travel very well. It's a very universal story of young men trying to find their place in the world and go after their dreams. That's also something that you don't have to be from the North of Finland to identify with!¨
Past winners update
The 2010 winner of the Screen International Best Pitch Award, Alexey German's Under Electric Clouds, has been selected as a world premiere for the Competition Programme of the 65th Berlinale (February 5-15, 2015). The co-production between the Russian Federation, Ukraine and Poland stars Louis Franck, Merab Ninidze and Chulpan Khamatova.


2013's winner, Seneca's Day, which is set to be the first fiction feature film to be co-produced by all three Baltic states, received € 220,000 from the pan-European co-production fund Eurimages at its last funding session in Turin in December. Kristijonas Vildziunas's fourth feature will continue shooting later this year.