The rise in older cinema-goers, explosion of annual film releases and improved perception of VOD services like Netflix were highlighted by Rentrack and BFI analysts.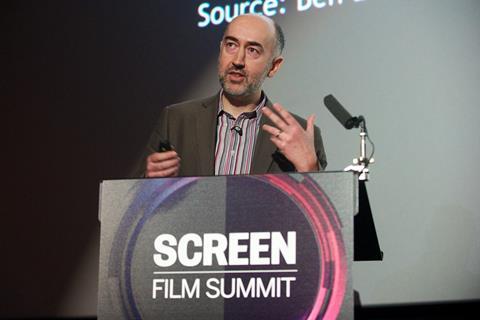 The rise of video of demand and its impact on the cinema-going experience were explored at the Screen Film Summit yesterday (Dec 10).
Lucy Jones, executive director at Rentrack, told delegates that consumer spending on filmed entertainment continues to rise every year and now stands at around $325bn, with the principal driver being spending via pay-TV subscriptions.
"But while everyone talks about VOD and how it is a really big growth area for the industry, theatrical is growing too," she reassured delegates.
"China is contributing a lot to that tandem growth but the area being squeezed by these new platforms are physical media such as DVDs."
Sean Perkins, from the BFI's research and statistics unit, later highlighted how 53% of people in a recent survey now believe they are streaming and downloading film more frequently than they were two years ago – while only 24% of the same group said they were visiting the cinema more frequently.
Increase in releases
Both analysts highlighted the significant rise in theatrical releases in recent years, with 850 releases in the UK and Ireland this year – triple the number of releases 20 years ago.
"It's a very crowded marketplace, which really kicked off with the advent of digital projection in 2009," said Jones. "It's much cheaper than buying a physical print and cinema's will take more of a risk on playing something."
But she cautioned film-makers on pushing for a theatrical release. "Hundreds of films are taking very, very small amounts of money," said Jones. "That can be a perfectly worthwhile exercise to promote your VOD release… But as a filmmaker, you might want to consider whether theatrical is the right forum for your film as not all these films are taking £50m."
Perkins added: "It's difficult to build an audience because, with 15-20 film releases per week, it's very difficult reach those audiences. There were 600 films last year competing for just a 10% share."
Fewer cinemas, more screens
Jones went on to state that "the UK and Ireland has just over 4,400 screens – the biggest it's ever been – but the number of cinemas has dropped off, from about 860 to just over 800".
The Rentrack analyst pointed to consolidation in the market where multiplexes were packing in more screens while smaller theatres were offering a boutique experience with fewer screens.
"Some 77% of screens are concentrated into those big multiplexes… but we need to consider how they are catering to a new audience that are coming through, looking for something different to what teenagers expect."
Older cinemagoers account for a proportion of this emerging audience. "Post Mamma Mia and The Kings Speech, a generation that grew up going to the cinema are coming back with greater disposable income," said Perkins.
"They have more time, which is key when you consider that the time pressures on younger audiences in particular are increasing."
Jones pointed to upcoming titles such as The Danish Girl, Dad's Army and Absolutely Fabulous: The Movie, which could capitalise on this audience.
Pricing
Jones went on to highlight YouGov data that claimed 46% of non-cinemagoers were put off by the cost, with 30% preferring to watch at home.
"It is not just the price of the ticket but the extra money spent on sweets, parking and other peripheral costs," she added.
"Odeon have dropped their online booking fee and I think that's an example of a good initiative as you don't want to put a barrier in place if people already think it's too expensive.
"And while people say they are put off by the expense, those who go to their local Picturehouse or Everyman spend more than average because people feel it is good value.
"It's important to bear in mind that you need to offer people what they perceive to be good value. It doesn't mean cheap. It just means good value."
Jones pointed to the sold out screenings of Secret Cinema Presents The Empire Strikes Back, where more than 100,000 people paid £85 for a ticket across a 100-day run this summer.
"People were paying £85 for a film they've seen before and probably have on DVD," she added. "It's thinking about the demographic for the film you are making or showing, and giving them something they wouldn't get at home."