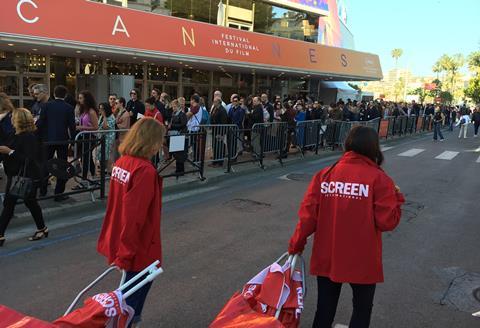 Screen International's coverage of the Cannes Film Festival will be bigger than ever in 2022 to mark the event's 75th edition.
The film industry will again be out in force in the south of France this year, following the festival's cancellation in 2020 due to Covid-19, and last July's slimmed-down edition.
Screen will be publishing eight print editions in Cannes, running May 17-24. The dailies will feature exclusive news, features and reviews and will be available from racks in the Palais, key hotels and street vendors.
Screendaily.com will feature up-to-the-minute coverage of the festival and Marche, with our daily Cannes newsletters running throughout the whole festival.
To mark this special edition of Cannes, screendaily.com will also be free to use throughout the festival. Users can register on site from now for full, free access between May 16-30.
The famous jury grid will return, with 10 internationally renowned critics assessing all 21 Competition titles. The jury grid will run in each Cannes daily edition, as well as online until the end of the festival.
Screen's team of critics, led by chief critic and reviews editor Fionnuala Halligan, will review every title in the Official Selection and key sidebars.
Matt Mueller, Screen International's editor, said: "Screen International will be out in force at the 75th Cannes Film Festival, and we are looking forward to covering the festival with our phenomenal team of editors, correspondents and critics, reconnecting with industry colleagues in person and celebrating 75 years of this fantastic festival."
During the festival, Screen's editorial, commercial and marketing teams will be based out of the Joy and Alexandre Suites at the Hôtel Barrière Le Majestic, opposite the Palais.
Follow Screen during Cannes on Twitter, Facebook, Instagram and YouTube.
If you wish to contact us about a news story, email one of our correspondents listed here, or alternatively email us at tips@screendaily.com.