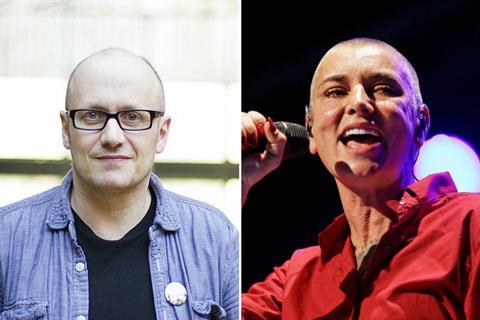 Lenny Abrahamson's A Man's World, the next project from The Hole In The Ground director Lee Cronin, and a new Sinead O'Connor documentary have all received development backing from Screen Ireland in its latest round of awards announced today (Monday March 4).
Element Pictures received €50,000 ($56,790) in development funding for A Man's World. The film will tell the story of boxer Emile Griffith, whose 1962 fight against Benny Paret ended in Paret's death. Abrahamson, who was Oscar-nominated for Room in 2015, is co-writing the script with Jon Raymond.
Screen Ireland is also backing the new film from Cronin, whose horror film The Hole in the Ground made its world premiere at Sundance and was acquired by A24 for the US. Box Of Bones is described as the story of a couple rebuilding their fractured relationship while inadvertently unearthing terrifying dark secrets and received €27,800 ($31,575) from Screen Ireland.
Cronin is co-writing the script with Stephen Shields and the project is being produced by John Keville, who produced The Hole In The Ground.

Keville also received €23,600 in development funding for Her Husband's Lover, based on the novel of the same name by Julia Crouch. It is about a woman starting a new life in the wake of tragedy, while her late husband's lovers' attempts to psychologically derail her. The script is to be written by Susanne Farrell, whose credtis include Sacha Polak's Rotterdam opener Dirty God.
New Sinead O'Connor documentary
Screen Ireland is investing €15,000 ($17,037) in the development of Ard Mhacha Productions' feature documentary Nothing Compares which will focus on the phenomenal rise to fame of Irish singer Sinead O'Connor, focusing on a five-year period between 1987 and 1992. Kathryn Ferguson is directing the feature and is also co-writing with Michael Mallie.
In further development awards, Treasure Entertainment received €26,000 ($29,530) for Alice In Funderland, a feature adaption of the hugely successful Irish stage play, set in the underbelly of Dublin's nightlife and written by Philip McMahon who also wrote the stage play.
Treasure is also reuniting with filmmaker John Butler, with whom it collaborated on Papi Chulo, for his next feature Kids These Days, which received €30,000 ($34,074) from Screen Ireland.
Marcie Films received €35,000 ($39,753) for Emer Reynolds' From A Low And Quiet Sea.
In production funding, Feline Films which received €250,000 ($283,951) for Fabio Mollo's Shadows. Mollo is co-writing with Damiano Brue, while an animation award of €180,000 ($204,445) was made to Pink Kong Studios' Urban Tails. The series about urban animals who entertain and inform about city life through a series of rap videos is directed by Aoife Doyle, who co-scripts with Leo Crowley.