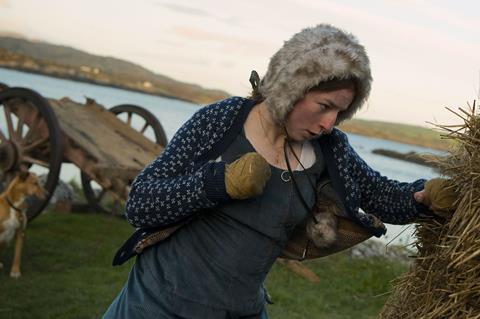 New projects from filmmakers Carmel Winters, Darren and Colin Thornton and Andrew Legge are among the projects being backed by Screen Ireland (formerly the Irish Film Board) in its latest round of funding decisions. The body has also awarded production funding this quarter to Phyllida Lloyd's Herself, which is currently shooting in Dublin.
Winters, the winner of the Fipresci Prize for the Discovery Programme at Toronto for Float Like A Butterfly (pictured), is developing her next project Heron Island - a love story about a woman recovering her lust for life following a brush with death. Winters plans to shoot it in the west of Ireland and the US. It was awarded €27,800 in development funding with World 2000 producing.
Four Mothers, adapted from Gianni di Gregorio's 2008 festival hit Mid-August Lunch, tells the story of a struggling novelist who is forced to take care of three eccentric older women - and his own mother - over the course of one chaotic weekend in Dublin. Darren Thornton (A Date For Mad Mary) will direct from a script he has co-written with his brother, Colin Thornton. Martina Niland (Once) of Port Pictures produces along with Eric Abraham and Jack Sidey for Portobello Productions (Ida), and Domenico Procacci for Fandango (My Beautiful Friend). It was awarded €35,950.
Also in development is Savage Productions' The Cancer Bus, the debut feature from writer Kelly Warburton. It follows Brona, her young son Michael and three cranky terminally ill pensioners, as they go on a once in a lifetime road-trip to capture an infamous goat. It was awarded €19,300. John Butler's forthcoming Bi Bi Baby, to be produced by Treasure Entertainment, was awarded €37,000.
In production funding, L.O.L.A., the feature directing debut of Andrew Legge, who also co-wrote alongside Angeli MacFarlane, received an unspecified offer of support. Legge's short films, including The Girl With The Mechanical Maiden starring Dominic West, have won several awards and he is also a former Cinéfondation resident. Set in 1940's England, it tells the story of Thomasina, who invents a machine that can intercept broadcasts from the future, documented by her filmmaker sister, Martha. Cowtown Pictures are producing.
Screen Ireland also awarded €750,000 to Element Pictures' Herself, directed by Phyllida Lloyd from a script by Clare Dunne and Malcolm Campbell. She also stars in the feature as a single mother determined to rebuild her life.
Other productions being backed include Blinder Films' Boys From County Hell, written and directed by Chris Baugh (€550,000). I Never Cry, written and directed by Piotr Domalewski and produced by MK1 Productions, which recently completed filming, was awarded €125,000.
Screen Ireland is also supporting five TV dramas currently in development, including Fantastic Films' ZOM-B, Blinder Films' Darkened Room, Treasure Entertainment's Spartacus Rising, Parallel Films' The Year Of The Beast and Caherduin, for 925 Productions.
In animation production, €175,000 was awarded to Ollie, to be produced by Ink And Light. An unspecified offer was awarded to Freddy Buttons, produced by Treehouse Republic.