Former winners of Screen International's Best Pitch Award are among the producers with projects at the co-production market during the 14th edition of Tallinn's Baltic Event (Nov 16-18).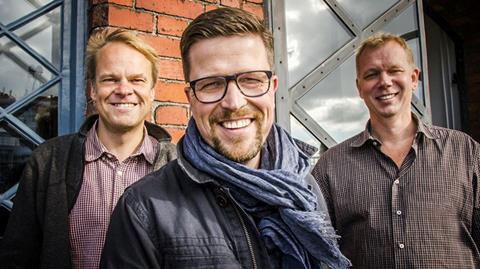 Scroll down for full list of projects
Finnish producers Kaarle Aho and Kai Nordberg of Making Movies Oy, who won the Screen award on two occasions (most recently, last year for the comedy Impaled Rektum) will be coming to the Baltic Event with Klaus Harö's next feature project, the grandfather-grandson drama Dark Christ.
Making Movies is the producer of Harö's The Fencer, Finland's submission for the Best Foreign-Language Film Oscar.
Another of Harö's feature projects, Never Alone, to be produced by MRP Productions' Ilkka Matila, received Screen's best pitch award in 2011.
Meanwhile, Lithuanian producer Uljana Kim, whose production of Kristijonas Vildziunas' Seneca's Day took the award home from the 2013 edition of the Baltic Event, will be back in Tallinn with a new project, the post-Soviet period immigrant drama Motherland, to be directed by the successful short film director Tomas Vengris.
The Co-Production Market's line-up of 12 feature film projects from 11 countries also includes local filmmaker Ilmar Raag's children's fantasy film Erik Stoneheart, continuing his longstanding working relationship with Riina Sildos' company Amrion, as well as new films by Romania's Marian Crisan (Berliner), Bulgaria's Stephan Komanderev (Compatibility), Croatia's Miha Knific (A Somewhat Better Ending), and Russia's Elizaveta Stishova's Suleiman Mountain which had been developed at a previous edition of the B'EST EAVE Producers' Workshop.
Other sections
The Baltic Event serves as a platform for presenting eight Baltic and Nordic projects in the script and pitch workshop POWR Baltic Stories Exchange as well as 20 projects in the Works in Progress and Screenings sections.
Producers from Estonia, Finland, Germany, Azerbaijan/Romania, Armenia, Lithuania, Czech Republic and Russia will be in Tallinn for the second leg of this year's B'EST EAVE Producers' Workshop which had also been held in St Petersburg last month.
One of this year's Screen Future Leaders, Eva Blondiau of Cologne-based Color of May, is one of the participants with Otar's Death by Ioseb "Soso" Bliadze.
This year's Focus on The Netherlands sees the selection of Max Porcelijn's mystery thriller bestseller adaptation The Source Code and a case study panel on the Estonian-Polish-Dutch co-production Jesus's Blood and Red Currants by Rainer Sarnet.
Tallinn hosts European Film Forum
The last day of the Baltic Event will see the Black Nights Film Festival's Industry@Tallinn programme hosting one of the European Commission's (EC) European Film Forums (18-19 Nov) which had been launched at the Berlinale in February.
EC Vice-President - and former Estonian Prime Minister - Andrus Ansip will participate in a so-called ¨fireside chat¨ about the Digital Single Market (DSM) Strategy and Europe's digital future.
This will be an opportunity for European film professionals to quiz the Commissioner on his position regarding geoblocking and the principle of territoriality.
Ansip had caused raised eyebrows among many in the industry through his insistence that he would not support ¨absolute territorial exclusivity¨ and by his suggestion that films could be first be released in the cinemas, then on DVD, ¨but then when it goes on video-on-demand, I would like to ask for cross-border access to the content".
According to sources in Brussels, Ansip was still peddling this line at a meeting with high-level film executives in September, which he described in a tweet as a ¨good lively debate on how to support creativity, widen distribution, fight piracy.¨
Issues ranging from territoriality to strategies for national film policy will be discussed with representatives from such professional organisations as FERA and FIAPF as well members of the European Parliament, the UK's British Film Institute, France's CNC and the Estonian Film Institute, among others.
LINE-UP OF BALTIC EVENT PROJECTS
Baltic Event Co-Production Market 2015 project selection:
Berliner, prod: Marian Crisan, Rova Film, Romania, dir: Marian Crisan
The Boy with The Dog, prods: Gints Grube and Antra Gaile, Mistrus Media, Latvia, dir: Davis Simanis
Compatibility, prod: Katya Trichkova, Argo Film, Bulgaria, dir: Stephan Komandarev
Dark Christ, prods: Kaarle Aho and Kai Nordberg, Making Movies Oy, Finland, dir: Klaus Härö
Erik Stoneheart, prod: Evelin Soosaar-Penttilä, Amrion, Estonia, dir: Ilmar Raag
From Grace, prod: Gary Cranner, Chezville, Norway, dir: Arild Østin Ommundsen
Motherland, prod: Uljana Kim, Studio Uljana Kim, Lithuania, dir: Tomas Vengris
North Pole, prod: Teresina Moscatiello, The Chimney Pot Sverige AB, Sweden, dirs: Simone Orlandini and Teresina Moscatiello
Otto the Barbarian, prods: Iuliana Tarnovetchi and Alexandra Buzas, Alien Film, Romania, dir: Ruxandra Ghitescu
A Somewhat Better Ending, prods: Siniša Juričić and Vanja Sremać, Nukleus film, Croatia, dir: Miha Knific
The Source Code, prod: Sander Verdonk, CTM Pictures, the Netherlands, dir: Max Porcelijn
Suleiman Mountain, prods: Maria Yakubova and Yelena Yatsura, Trikita Entertainment, Russia, dir: Elizaveta Stishova
Baltic Bridge East by West (B'EST EAVE) project selection:
Basket, prod: Andra Popescu, Conset/Free Art, Azerbaijan/Romania, dir: Imamaddin Hasanov
Don't Forget to Breathe, prod: Helen Vinogradov, Vincent Films, Estonia, dir: Helen Takkin
The Great Bear, prod: Maria Forsström, Tast Films Oy, Finland, dir: Jan Forsström
The Longest Birthday, prod-dir: Maxim Dashkin, Victoria Films, Russia
My Grandma's Locks, prod: Raffi Niziblian, Parallels Film, Armenia, dir: Marine Zakaryan
Otar's Death, prod: Eva Blondiau, Color of May, Germany, dir: Ioseb "Soso" Bliadze
Senafon, producer Anna Shalashina, 2D Celluloid, Russia, director Konstantin Charmadov
Sunburned, prod: Johanna Aust, Flickfilm, Germany, dir: Carolina Hellsgård
Participants without projects:
Gabija Budreckyte, Kinomind Films, Lithuania
Michael Geidel, MiriquidiFilm, Germany
Marek Novák, Xova Film, Czech Republic
Alina Rizvanova, Tabula Rasa, Russia