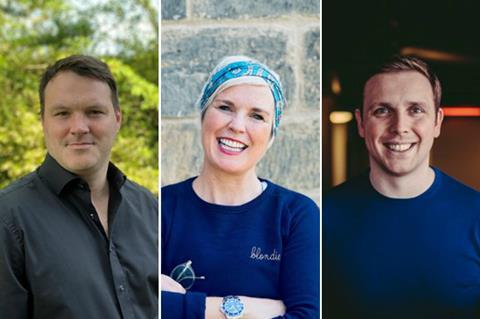 UK funding and support body Screen Scotland has made three hires at executive level, to head up its scripted, unscripted and production teams.
Executive producer Kieran Hannigan has been appointed as head of scripted, where he will develop the organisation's work with writers, broadcasters and other development partners to support Scotland's scripted film and TV talent.
Director and series producer Dani Carlaw becomes head of unscripted. She will be responsible for early stage talent development, supporting producers with funding both individual programmes and slates of projects at development and production stage.
Carlaw will work directly at Screen Scotland and in collaboration with broadcasters and other strategic partners.
Finally Steven Little becomes head of production, and will oversee the productions funded by Screen Scotland. Little was previously head of production at Scottish company Blazing Griffin, where he worked on films including Anna And The Apocalypse.
The new trio form part of Screen Scotland's 10-person leadership team, headed by executive director Isabel Davis and director David Smith.
"We're so excited to have Kieran, Dani and Steven join our brilliant team," said Davis. "Each brings fresh creative thinking, coalface experience, and a deep commitment to generating a strong body of work from Scotland. At a time of deep challenge for the sector, it's all the more important that we enable Scotland to make its best work and compete on a global level."