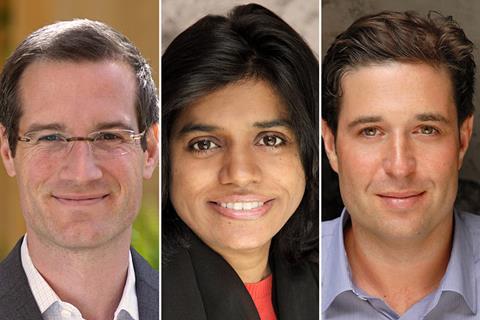 The latest in our ScreenDaily Talks webinar series takes place on Wednesday September 2 at 18:00 BST/10:00 PDT/13:00 EDT. The session will look at three emerging platforms in the North American streaming landscape.
As SVoD services proliferate around the world and the lockdown brings a surge in engagement for platforms and their partners, three players will discuss the streaming ecosystem and how they see it evolving as they work with content creators and rights holders, forge clear brand identities, and develop growth strategies.
Soumya Sriraman is CEO and president of BritBox, the joint venture between BBC subsidiary BBC Studios and ITV that streams popular British content. In less than three years she has led the platform to more than 1.2m subscribers in North America. Prior to joining the service she was EVP of franchise and digital enterprises at BBC Worldwide North America (now BBC Studios Americas), and before that served as president and CEO at Palisades Tartan US and UK.
Rob Holmes is VP of programming at streaming platform Roku, where he oversees the development and growth of The Roku Channel as well as programming strategy. Prior to Roku he was with Comcast where he developed and executed the advertising strategy and ran projects across the broadcast and cable networks, advertising, digital and the film studio. He has held senior roles at tech start-ups including VUDU, and oversaw corporate development at MGM.
Matt Stein has served for the past two years as head of brand and creative at streaming service Philo, which launched in November 2017, and has worked with network partners to develop multi-touchpoint awareness and acquisition campaigns. Prior to Philo he spent 20 years in the cable universe, developing, writing and producing content for VH1, Spike TV, Discovery Kids and The Travel Channel. He also oversaw marketing for networks including BBC America, Science Channel, and Animal Planet.
Join Screen International's Americas Editor Jeremy Kay for a live conversation with the executives, in partnership with BritBox. The session will comprise a 30-minute dialogue followed by a live Q+A session when viewers get to ask the questions. Questions may also be sent in advance to orlando.parfitt@screendaily.com.
The webinar password will be emailed after registration, and the webinar itself will be available to watch on Screendaily.com the following day.