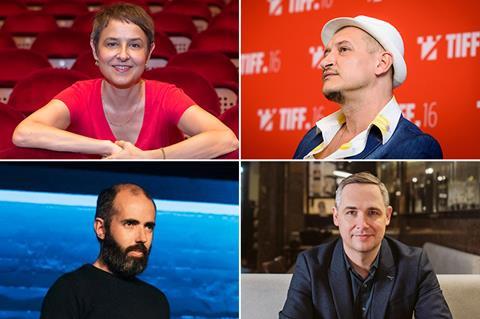 The next episode in our ScreenDaily Talks webinar series will take place July 26 at 15:00 BST / 16:00 CEST and will explore how regional film festivals boost the independent industry.
The panel is in partnership with Transilvania International Film Festival.
They may not attract the star wattage of the A-list festivals but Europe's big regional festivals are essential events for the film sector ecosystems in their cities and regions.
We talk to festival directors from Romania, Poland, Portugal and Greece about the role they play for the local and international industries, how they boost local filmmakers and help them make international connections, and how they see their future place in the evolving film festival landscape. The moderator is Screen International contributing editor Wendy Mitchell.
Speakers
Marcin Pieńkowski - festival and artistic director of New Horizons International Film Festival
Marcin has been an artistic director of the New Horizons International Film Festival (New Horizons IFF) in Wroclaw in Poland since 2016, and head of distribution of New Horizons Association. In March 2021 he was appointed as a director of the festival. He is a lecturer, film historian, editor and co-author of several books about films. Between 2011 and 2015 he was also the spokesman and director of PR & marketing of the New Horizons IFF, American Film Festival and New Horizons Cinema in Wroclaw, one of the the biggest arthouse cinemas in Europe.
Carlos Ramos – co-director of IndieLisboa Internatonal Film Festival
Carlos Ramos has been co-director of IndieLisboa - International Film Festival since 2015 and film programmer since 2006. He is the founder and curator of PLUNC – New Media and Digital Art Festival. He is also a consultant for Direcção-Geral das Artes (DGARTES), the national cultural organism that supports and funds artistic creation and arts.
Elise Jalladeau - general director of the Thessaloniki International Film Festival
Elise Jalladeau is general director of the Thessaloniki Film Festival, a cultural organisation that encompasses theThessaloniki International Film Festival, Thessaloniki Documentary Film Festival, four cinema screens operated throughout the year, and Thessaloniki Film Museum (collections, library, film literacy, cinematheque). She has worked as a producer and led the Ateliers Produire au Sud. Jalladeau was also group leader for Eave's 'Ties that Bind' initiative until 2018.
Mihai Chirilov - artistic director of the Transilvania International Film Festival
Chirilov has been the artistic director of Transilvania International Film Festival (TIFF) since the first edition in 2002. He is also a renowned film critic and the artistic director of the Making Waves Romanian Film Festival in New York. He has curated various Romanian film programmes abroad and co-organised the complete Lucian Pintilie retrospective at MoMA in 2012. Chirilov has been a jury member at various international film festivals including Hong Kong, Karlovy Vary, Berlin, Goteborg, Chicago, San Francisco, Palm Springs, Moscow.
The 60-minute session will include a live Q+A section when viewers are able to ask questions. Advance questions can also be sent to orlando.parfitt@screendaily.com. The webinar password will be emailed after registration, and the webinar itself will be available to watch on Screendaily.com after it has taken place.