Writer of several influential books on screenwriting dies aged 77.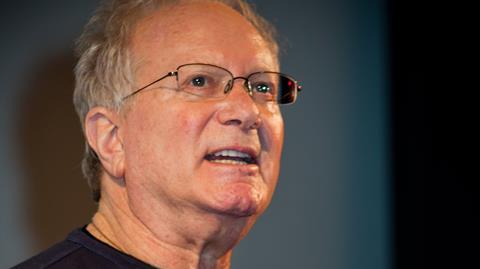 Syd Field, known as "the guru of screenwriting," died yesterday (Nov 17) of hemolytic anemia at his home in Beverly Hills surrounded by his wife, family and friends. He was 77.
Field was the author of eight best-selling books on screenwriting. The first of these, Screenplay was initially published in 1979, has been published in 23 languages and is used in hundreds of colleges and universities around the world.
Born Dec 19, 1935 in Hollywood, California, Field received his B.A. in English Literature at University of California, Berkeley in 1960. He began his career at Wolper Productions in the shipping department, earning $75 a week. Field went on to research and write for the original Biography television series, among other Wolper Productions.
Acclaimed by CNN as the "guru of all screenwriters," Field is celebrated as the first writer to outline the paradigm that most screenplays follow, which is the classic three-act structure.
During a career that spanned more than 50 years, Field chaired the Academic Liaison Committee at The Writer's Guild of America, served as lecturer on the faculty at University of Southern California and AFI and has been a special script consultant to 20th Century Fox, the Disney Studios, Universal, Tri-Star Pictures as well as an annual The Visual Art of Storytelling workshop for the scientists of JPL and NASA.
Field was inducted into the Final Draft Hall of Fame in 2006 and was the first inductee into the Screenwriting Hall of Fame of the American Screenwriting Association. He was also a special consultant to the Film Preservation Project for the famed Getty Center.
By special invitation of numerous Ministries of Culture, Field taught throughout Europe, Asia, South America and Canada. His books and workshops influenced writers and producers in the film industry.
Judd Apatow, the writer and director of films including Knocked Up and The 40 Year Old Virgin, has said: "What I learned in Syd Field's class was here's how Annie Hall works, and here's how Witness works, and then I begin to think, 'OK now how would I do it differently than that?' That concept of 'Always being in learning mode' has stuck with me to this day…"
30 Rock creator and writer Tina Fey previously said: "I did a million drafts. And then I did the thing everybody does - I read Syd Field and I used my index cards."
Frank Darabont, writer-director of The Shawshank Redemption, has also praised Field and said: "I've gone from reading his books, to being taught by him in courses. I think one of us must have done something right. I thank him all the time for inspiring me."
In his final speaking engagement in September 2013, Syd delivered the Keynote Address at STORY EXPO in Los Angeles. His talk on "Why We Are Storytellers" brought the packed room to its feet with a long, standing ovation.
Syd Field is survived by his wife, Aviva Field, and his brother, Dr. Morton Field, both of Beverly Hills; Rika Hofmann, sister-in-law, of Phoenix; Lisa Arcos, daughter, of Atlanta; and Gloria Kessler, cousin, of Los Angeles.
A memorial service will be announced soon.
In lieu of flowers, charitable donations in Syd's name can be made to:
SYDA Foundation, Donations, PO Box 600, S. Fallsburg, NY 12779, www.siddhayoga.org
The PRASAD Project, 465 Brickman Road, Hurleyville, New York 12747, www.prasad.org
Tower Hematology Oncology Medical Group, 9090 Wilshire Blvd., Suite 200 Beverly Hills, CA 90211, www.toweroncology.com