EXCLUSIVE: Protagonist Pictures scores French deal on Tangerine director's next feature.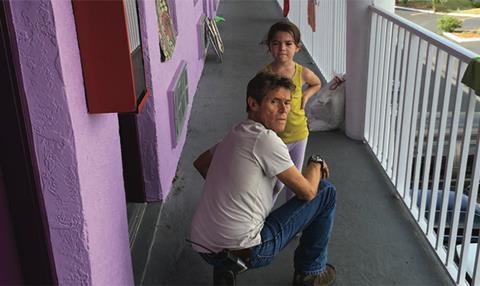 Le Pacte has picked up French rights to Sean Baker's forthcoming The Florida Project.
The deal was negotiated between international sales agent Protagonist Pictures' Jennifer Fattell and Jean Labadie and Thomas Pibarot of Le Pacte.
Willem Dafoe, Bria Vinaite, Caleb Landry Jones and Brooklynn Prince star in the story about a precocious six year-old and her rag-tag group of close friends whose carefree lives contrast with those of their struggling parents.
Currently in post-production, the film is showing on promo at this week's European Film Market (EFM) in Berlin. Baker co-wrote the screenplay with frequent collaborator Chris Bergoch.
CAA and ICM are handling domestic sales on the title.
Shot on 35mm film last year in the neighbourhoods around Walt Disney World in Orlando Florida, The Florida project will mark Baker's sixth film, following on from the critically-lauded Tangerine in 2015.
Producers on the project are Sean Baker, Chris Bergoch, Kevin Chinoy, Andrew Duncan, Alex Saks, Francesca Silvestri, and Shih-Ching Tsou. Darren Dean is executive producing.
The film is a June Pictures (Duncan and Saks' company), Cre Film (Baker's company), and Freestyle Picture Company (Chinoy and Silvestri's company) production.