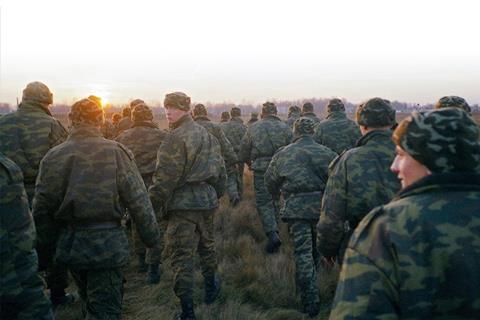 Seattle International Film Festival (SIFF) has announced the jury, industry mentors and New Works-in-Progress Forum films for the first in-person edition of the festival since 2019, set to run April 14-24.

Festival jury members who are also serving as industry mentors at the New Works-In-Progress Forum are: producer and CEO of Gamechanger Films Effie Brown; producer Kimberely Browning; former NFB Animation Studio head Michael Fukishima; Summer Of Soul executive producer Marie Therese Guirgis; Dublin Film Festival Director Grainne Humphreys; and Sundance programmer Ania Trzebiatowska.
This year's forum selections, curated by Kathleen McInnis, fall under two parts. The focus of the first session will be Motherland (Swe-Ukra-Bela, pictured) from Sisyfos Films. Directed by Hanna Badziaka and Alexander Mihalkovich, the film exposes violent bullying and abuse in the Belarus army and the systematic destruction of free will societies and democratic ideals. Badziaka and Mihalkovich are scheduled to attend.
Session Two will focus on Broadcast (Swe) from Plattform Produktion. Axel Danielson and Maximilien Van Aertryck chronicle the impact of Camera Obscura, the advent of the personal phone camera, and the impact of social media communication on society's concepts of self and images. The filmmakers are scheduled to attend.
Speaking of the return to the in-person format McInnis said, "One of the most serendipitous gifts the forum has given us is the annual creation of family with our filmmakers, audience and industry mentors. It is wonderful to have the family back together and continue to grow the event again this year."
SIFF artistic director Beth Barrett added that this year the festival will screen Vera Dreams Of The Sea, Kaltrina Krasniqi's film and 2019 New Works-In-Progress participant that was nominated for the Venice Horizons Award at its world premiere at Venice and won the Ingmar Bergman Award at Göteborg Film Festival.
Festival jurors include film critic Carlos Aguilar; Retablo writer-director Alvaro Delgado Aparicio; Global Cinematheque co-founder Jasmine Jaisinghani; journalist and critic Thelma Adams; Andrew Carlin from Oscilloscope Laboratories; Gravitas Ventures acquisitions executive Bill Guentzler; Roadside Attractions senior director of acquisitions Angel An; journalist and Palm Springs International Film Festival lead programmer David Ansen; and Denver International Film Festival artistic director Matt Campbell.
There will be an online screenings portal as a supplement to in-person screenings.