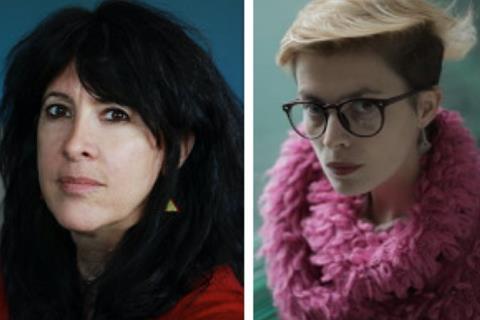 Seattle International Film Festival (SIFF) hierarchy has announced the 2021 filmmakers selected for the New Works-in-Progress Forum on April 15 and 16.
Directors Lisa Leeman and her US documentary Walk By Me aka Trans*Formed, and Kaltrina Krasniqi and her Kosovar narrative feature Vera Dreams Of The Sea have been chosen to take part.
This year the forum has been trimmed from four to two projects after the showcase and SIFF were cancelled in 2020 due to the pandemic.
The sessions, which will not be geoblocked, form part of this year's virtual SIFF that runs from April 8-18.
Forum audience members will be asked to sign a non-disclosure agreement when they buy their tickets to ensure the event is a confidential space for the filmmakers during the creative process. Mentors will be announced shortly.
Twenty-six years after she chronicled a young artist's gender transition in Metamorphosis: Man Into Woman, Leeman finds her subject at a new crossroads in Walk By Me.
"We filmmakers get so close to the stories we tell and to the people in our films – and I've even become a part of this story, a first for me," said Leeman.
"So I'm ready to share a rough cut in the safe space of the SIFF New Works-in-Progress Forum. I premiered my last film at SIFF (Awake, 2014), and I know I can trust SIFF audiences, filmmakers, and mentors to give us smart and crucial feedback on how the film is working, before we resume editing the film."
Speaking of her selection, Krasniqi said, "Vera Dreams Of The Sea is my first feature-length fiction piece which I have been working on since 2014. This is a very personal film through which I learned a lot about my mother, her challenges as well as challenges of women worldwide in their quest for economic independence.
"Currently we are in the final phase of the project and we are excited to share our baby with the great team of SIFF New Work-in-Progress Forum. I'm interested in telling a universal story and we're hoping that this platform will help us do exactly that."
SIFF artistic Director Beth Barrett said, "We are thrilled that the New Works-in-Progress Forum is returning in 2021, at the festival on our virtual SIFF channel. To be able to support these talented filmmakers at this crucial junction of their projects is an honour. The depth of engagement and discussion is unique, and our SIFF audiences appreciate being able to participate in crafting the future of these films."
"It is an exciting time for the future of audience engagement and cinema in what we hope will soon be a post-pandemic era," said New Works-In-Progress Forum curator Kathleen McInnis.
"The virtual SIFF channel, while clearly not the same as an intimate cinema setting, will allow for an even more robust, diversified dialogue between filmmakers, mentors and audience. These are, after all, global storytellers for a global audience."
New Works-in-Progress Forum alumni include Alvaro Delgado Aparicio's 2018 Berlin and SIFF drama Retablo (Peru-Germany-Norway), María Paz González's Lina From Lima (Chile-Peru-Argentina) that played at 2019 Toronto and 2020 Goteborg, and Jordan Schiele's US documentary The Silk And The Flame, which screened at 2018 Berlin and Hot Docs, and won the $50,000 Clarke Legacy Award the following year at SIFF.