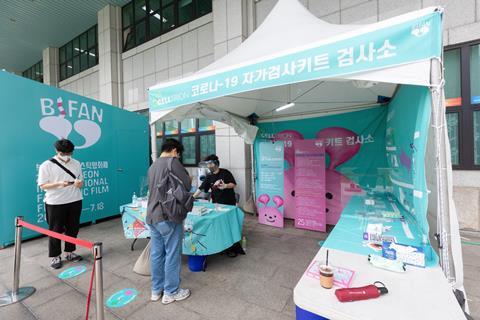 South Korea is now implementing its strictest social distancing measures against the spread of Covid-19 in Seoul and the capital's surrounding areas for at least two weeks from July 12, and the Bucheon International Fantastic Film Festival (Bifan) is adjusting accordingly.
For about a week, the country has reported more than 1,000 new Covid-19 infections per day.
At Level 4, private gatherings of up to four people are allowed only up until 18.00, after which up to two people can gather. Multi-use facilities such as theatres, restaurants and cafes are not allowed to operate after 22.00.
Bifan has quickly moved to expand offerings of rapid on-site Covid-19 self-test kits for audiences free of charge and moved events such as its awards ceremonies and receptions online. It will continue physical screenings until July 15th with none running after 22.00.
The festival is continuing its disinfecting activities at the rate of four to five times a day in cinemas, where audiences are also required to walk through sterilizer gates and leave behind information for contact tracing. Staff and volunteers are also using self-test kits before starting work each day.
Box office impact
The heightened social distancing measures come at a time when box office has been on the uptick, led by Hollywood films such as Fast And Furious 9, which has garnered more than 2.3 million admissions, and Cruella, which has notched up some 1.9 million admissions.
Local summer tentpole releases such as director Ryoo Seung-wan's Escape From Mogadishu and disaster film Sinkhole are set for release on July 28 and on August 11, respectively, with distributors taking a wait-and-see approach to the next two weeks' results.