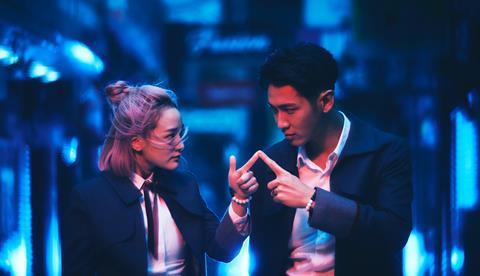 Asia's largest genre film festival, the Bucheon International Fantastic Film Festival (Bifan) in South Korea is celebrating its 25th edition this year running from July 8-18.
Presenting envelope-pushing films to local audiences as well as providing a window on Asian genre films to the rest of the world, the festival is normally frequented by programmers and other industry professionals from around the global film festival circuit.
But this is Bifan's second year operating in the Covid-19 pandemic as a hybrid event. International guests and all delegates participating in the festival's industry platform, the Network of Asian Fantastic Films (NAFF), will be participating online only. Screenings will be held partially on the wavve streaming platform and with sanitation measures and social distancing at venues around Bucheon and at Incheon International Airport for a special XR programme.
Of the 258 films from 47 countries Bifan has selected for this year's edition, 97 are world premieres and seven are international premieres. More than half – 146 titles in total – are scheduled to screen on wavve.
"There are films that will be shown on Netflix or Amazon, but we try to find films that audiences will miss out on – diamonds in the rough," says Thomas Nam, who is head of NAFF and also programmes the festival's English-language titles.
Bifan will open with the world premiere of Taiwan-Korea co-production Till We Meet Again, directed by Giddens Ko, whose Mon Mon Mon Monsters won the festival's audience award in 2018. It will close with a screening of the international competition prize-winner.
This year's international competition section (called Bucheon Choice) features four Asian films making their world premieres: Thai director Banjong Pisanthanakun's shaman story The Medium, produced by Korean filmmaker Na Hong-Jin (The Wailing); LV Huizhou's Pistol, a Chinese take on Jean-Luc Godard's French New Wave classic Breathless set in Beijing; Taiwanese film Treat Or Trick, directed by Hsu Fuhsiang; and Filipino director Rae Red's Tenement 66 which tells the story of impoverished teens who turn to crime.
Ellen YD Kim, Asian cinema programmer, notes: "I've been looking for films with originality from around Asia and I think these four films in Bucheon Choice might be the hottest. They show how the Southeast Asian and Chinese-speaking regions have balanced out all around. The films' quality reflects the market growth in these territories."
New awards and Lee Choon-yun tribute
This will be the sixth year for the festival's Korean Fantastic: Features competition. To help support local cinema in difficult times, the award for best Korean fantastic film has been increased to KW20m ($17,680) and a new award for Korean fantastic best director with KW10m ($8,840) has been added along with a new talent award (sponsored by local SVoD Watcha) for two films, each to get KW5m ($4,420), and a distribution award for KW10m ($8,840).
Mo Eunyoung, Korean cinema programmer, says, "Korean Fantastic aims to discover newcomers so all eight of the feature films in this section are from first and second-time directors. Every year, we see one or two directors from this section move into mainstream commercial filmmaking. This year, the section has a focus on women directors - four low-budget independent genre films from women directors who could attract attention."
These are Show Me The Ghost, directed by Kim Eunkyung; Sillim Men And Women, directed by Jeong Jeeyoung; Trans, directed by Do Naeri; and Unboxing Girl, directed by Kim Soojung.
With a nod to the development of digital distribution led by OTT media, Bifan is this year launching Strange Homage, a section showcasing recovered, restored and digitalised classics curated by Jin Park, who is also a programmer for European and other international cinema. This new section will feature Korean classic Grudge Of The Sleepwalking Woman (1984), directed by Gang Beomgu, and Roger Corman's feature debut, A Bucket Of Blood (1959).
The festival will also host an XR3 exhibition as an official partner in Korea to the initiative led by Cannes XR, Tribeca and NewImages, in addition to 49 officially selected XR works in the Beyond Reality section.
Jay Kim, XR curator, says, "This is the sixth year we are doing this and the Beyond Reality section is expanding – from about 40 works to 49 this year. We will have the XR3 exhibition at Incheon International Airport. You can see how the technical skill and directorial know-how has accumulated and improved. The quality has got to the point where you have to question the nature of films now."
NAFF will be held entirely online with 40 official selections from 29 countries for this year's project market.
The festival will pay tribute to recently deceased producer Lee Choon-yun with an in memoriam showcase screening two of his best known films – Memento Mori, from the Whispering Corridors high-school horror franchise, and The Terror, Live, which made its world premiere at Bifan's closing ceremony in 2013.
Bifan is also planning a stage performance at the opening ceremony, co-directed by Kim Tae-yong and Min Kyu-dong, the directors of Memento Mori, to celebrate Lee's contributions to Korean cinema.