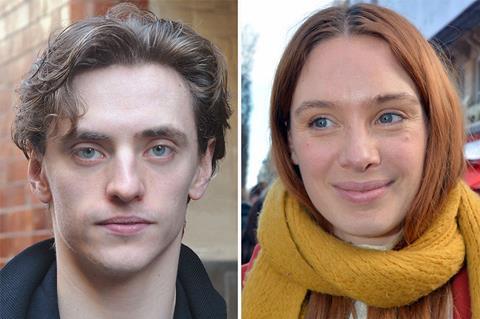 Renowned Russian dancer and actor Sergei Polunin and French actress Laetitia Dosch have joined the cast of Danielle Arbid's upcoming feature Passion Simple, which began shooting in and around Paris last week.
The film is being shot in 16mm and the shoot will also travel to Moscow and Florence in February.
Dosch co-stars as a French academic who embarks on a passionate affair with a dashing, married Russian diplomat, played by Polunin, knowing that the relationship will not last. The storyline revolves around the journal she keeps as she awaits their next meeting.
The film is adapted from French writer Annie Ernaux's best-selling eponymous novel which sold some 400,000 copies in France and has been translated into 20 languages.
Dosch and Polunin replace Phantom Thread actress Vicky Krieps and Russian stage and screen star Danila Kozlovsky who were previously named for the leading roles when the project was first announced during Cannes last May.
Dosch's recent credits include Montparnasse Bienvenue, in which she played a fragile woman who decides to conquer Paris after a breakdown, the romantic comedy Gaspard At The Wedding and drama Our Struggles.
Polunin, who is sometimes referred to as the 'James Dean of dance', shot to fame as the youngest-ever male principal dancer at the UK's Royal Ballet, before sensationally quitting the company and diversifying into film although he has since rekindled his dance career.
Passion Simple marks his first starring film role after smaller parts in Red Sparrow and Kenneth Branagh's Murder On The Orient Express.
Pyramide International relaunched world sales on the freshly re-cast production at Unifrance's Rendez-vous with French Cinema in Paris last week.
The $2.5m feature is co-produced by David Thion and Philippe Martin at Les Films Pelléas and Belgium's Versus Productions.
It is French-Lebanese director Arbid's fifth fiction feature and follows on from the semi-autobiographical Parisienne, a coming-of-age tale about a young Lebanese girl newly arrived in the French capital.
Other titles on Pyramide International's Rendez-vous slate included Lucas Bernaud's A Clever Crook, starring Swann Arlaud as an artful thief who attracts the attention of a veteran police officer on the verge of retirement, played by Charles Berling, and Berlinale competition title God Exists, Her Name Is Petrunya by Macedonian filmmaker Teona Strugar Mitevska.