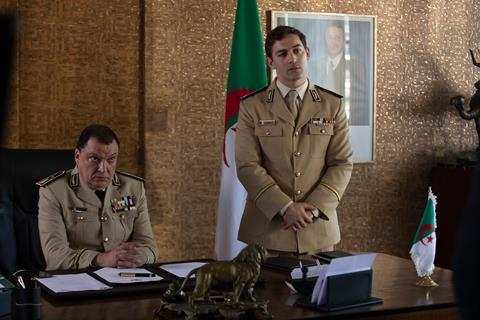 TV series festival and industry event Series Mania, which is taking place in Lille from August 26-September 2, has announced the line-up for its Forum Exclusives section, also known as the Buyers' Showcase.
Seven out of the 21 series are world premieres, the highest number since the creation of the forum in 2013.
These include Algiers Confidential - a French and German four-part series about a police inspector attached to the German embassy in Algiers who has a forbidden love affair with an Algerian investigating judge, made even more difficult by the kidnapping of an arms dealer.
L'Ora is a 1950s set Italian and French 10-part crime drama about a communist newspaper's complicated relationship with the mafia.
New Heights is an eight-part drama from Switzerland and set on a dairy farm rocked by a family tragedy after the father commits suicide, while Belgian 10-parter Pandore looks at the aftermath of a judge discovering her father is involved in a major tax fraud case.
Completing the line-up of world premieres are Portuguese musical Doce, a 10-part crime drama from Taiwan called The Amazing Grace Of Σ which tells the story of a pop star consumed by guilt after his manager commits suicide and The Spectacular, a four-part drama from the Netherlands exploring the real-life attacks in the name of IRA which took place in 1988 in the border region between Belgium, the Netherlands and France.
The 21 series hail from 19 different countries and were selected by Series Mania's artistic director Frédéric Lavigne and his team. They will be available to screen exclusively to registered participants at the on-site screening room during the Series Mania Forum (August 30 – September 1) and on the Series Mania digital platform from August 30-September 18.
This year's Series Mania will take place as an in-person event after moving dates twice this year, first from its usual March berth to late May, early June, then to its current August, September slot following another surge in Covid-19 cases in the region.
Read the full Forum Exclusives line-up below.
A Love For Dilemma (China)
Producer: Shanghai Linmon Pictures
Distributer: Iqiyi International Singapore
Aftertaste (Australia)
Producer: Closer Productions
Distributor: ABC Commercial
Algiers Confidential (Fr/Ger)*
Producer: Watch Next Media in coproduction with Eikin Media
Distributor: About Premium Content
Doce (Port)*
Producer: Santa Rita Filmes
Echos (Ger)
Producer: Neuesuper, in coproduction with Joyn
Distributor: Beta Film GmbH
Ever After (It)
Producer: Indigo Film
Distributor: About Premium Content
Hit Parade (Bra)
Producer: Kuarup
Distributor: Caren Moy
Interrupted (Turkey)
Producer: TIMS&B Productions
Distributor: Inter Medya
Journey (Ice)
Producer: Glassriver
Distributor: Keshet International
L'Ora (It/Fr)*
Producer: Indiana Production, Squareone Productions and SND
Distributor: SND
Mental (Rus)
Producer: 1-2-3 Production
New Heights (Switz)*
Producer: Zodiac Pictures
Pandore (Bel)*
Producer: Artémis Productions (Bel), in coproduction with the Series Fund FWB-RTBF
Distributor: About Premium Content
RFDS, Royal Flying Doctor Service (Australia)
Producer: Endemol Shine,
Distributor: Banijay Rights
Way Over Me (Can)
Producer: ALSO Productions
Distributor: Attraction Distribution
The Amazing Grace Of Σ (Tai)*
Producer: Rosebud Production
The Family (Ser)
Producer: Firefly Productions
The Hunt For Salamander (Bul)
Producer: Nova Broadcasting Group
The Spectacular (Neth)*
Producer: Pupkin, Dist: Newen Connect
Threesome (Swe)
Producer: Yellow Bird
Distributor: Eccho Rights
Who Killed The Good Man (Tai)
Producer: Taiwan Public Television Service Foundation
*World premieres