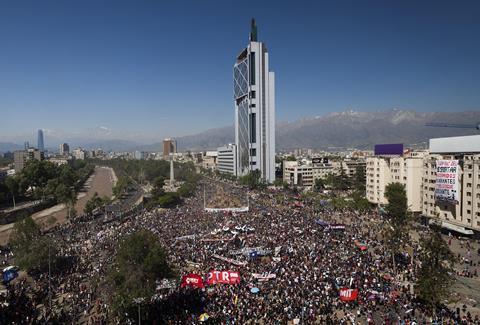 San Sebastian is hosting the 10th Europe-Latin America Co-Production Forum from September 20-22, showcasing projects from Argentina, Chile, Colombia, Mexico, Uruguay, France and Spain.
Fourteen fiction and non-fiction works are being pitched this year, both at industry sessions and one-to-ones, with prizes including the best project award; the DALE! award (Development Latin America-Europe) and the ArteKino international prize.
Organised as an extension to the San Sebastian Forum, some 148 projects have previously been selected, with 70 of those being completed and 40 selected for festivals including the Berlinale, Cannes, Venice and San Sebastian.
Success stories from recent years include two that featured in this year's Oscar race: Maite Alberdi's Chilean best documentary nominee The Mole Agent (in the forum in 2020) and Jayro Bustamente's shortlisted Guatemalan submission La Llorona, which was pitched in 2018.
Further previously pitched projects include Javier Fuentes-Léon's Peruvian noir and 2014 TIFF world premiere The Vanished Elephant, and White On White, from Chilean-Spanish director Theo Court, which won best film, best director and the Fipresci prize when it played in Venice Horizons in 2019.
This year's cohort includes The Virgin Of The Quarry Lake, an Argentina-Mexico co-production from Argentinian director Laura Casabé. It is about jealous girl who enlists the help of magic to interfere with a relationship involving the apple of her eye. The project is based on two short stories by Argentinian novelist and journalist Mariana Enriquez. It has funding in place from Argentina's national film body INCAA, Fondo Nacional de las Artes (FNA) and Buenos Aires Audiovisual Cluster and has been selected for Sitges Pitch Box.
Argentinian producer Alejandro Israel of Ajimolido Films also produced Casabé's previous film The Returned, winner of the best directing award at Sitges last year. Quarry Lake is budgeted at approximately €872,000 and is lined up for a spring/early summer shoot in 2022. Mexico's Caponeto is a co-producer and the parties are awaiting the outcome of pitches to Ibermedia and Eficine and will be in San Sebastian looking for European co-production partners and an international sales agent.
Director Ines Barrionuevo is doing double duty and not only has Camila Comes Out Tonight in San Sebastian's official selection but Spectrum in the forum. The Argentinian project from Gualicho Cine follows a woman in quarantine who receives strange sound recordings from her absent filmmaker husband and suspects she is living with a spirit. Selected for Proyecta in Ventana Sur last year, Spectrum has development backing from INCAA and Cordoba City Agency and FNA and is anticipated to be shooting by the first quarter of 2023.
El Porvenir De la Mirada, from Chile's Storyboard Media, was presented at Producers Network in Cannes Marché and is directed by Cristian Leighton, whose Kawase-san played in competition at Miami Film Festival in 2010. Leighton's latest documentary chronicles social inequality activists as they convalesce from eye injuries sustained during the 2019 uprising in Santiago. Production starts in October and the project has financing from the Chilean government.
Where The River Begins is a Colombia-Canada-France co-production from Inercia Películas and is scheduled to shoot in Colombia in the first quarter of 2023. Juan Andrés Arango directs the story of a teenage widow from the Indigenous Embera people and her young daughter who flee into the jungle with a gang member. France's Ciné Sud Promotion and Canada's Midi La Nuit are co-production partners and the project went through the BAM Stories section of 2020 Bogota Audiovisual Market and won the Cine Qua Non Lab award. There is as yet no funding in place.
Chinese filmmaker Johnny Ma's Chin-Gone: A Year Without Cinema makes its market debut and is a documentary-revenge thriller hybrid in which a Chinese documentarian newly arrived in Mexico uncovers new details about the family patriarch's death and gets kidnapped. Production on the Canada-Mexico co-pro is set for 2022. Notable Content founder Amanda Verhagen raised the majority of Canadian funds through grants and soft money. Producer Rachel Daisy Ellis of Desvia in Brazil is on board and the partners are looking for additional co-producers.
Álvaro Aponte Centeno is set to shoot Sarah for Chile's Quijote Films and Puerto Rico's Morivii Films in Puerto Rico in early 2023. The story is told through the eyes of a teenager who seeks refuge with friends from her troubled domestic life. The project went through 2020 BRLab and 2019 Cinéfondation Residency at Cannes Film Festival and the producers are looking for a European partner and international sales agent.
Camionero marks Argentinian director Francisco Marise's follow-up to her 2018 San Sebastian New Directors selection To War and is being produced by that film's co-writer Javier Rebollo of Spain's Lolita Films. Camionero is styled as a road movie without a road and explores the inner lives of truck drivers when they switch off their engines. Set for a late 2022 production start, the project has the support of Argentina's FNA and Mecenazgo de la Ciudad de Buenos Aires.
Further projects participating in this year's forum:
Alemania (Arg-Ger)
Dir. Maria Zanetti (Arg)
Prod. Tarea Fina
Celeste (Chile-It-Fr)
Dir. Nayra Ilic García (Chile)
Prod. Oro Films
El Viento Que Arrasa (Arg-Uru)
Dir. Paula Hernández (Arg)
Prod. Cimarron Cine
People By Night (Arg)
Dir. Romina Paula (Arg)
Prod. Varsovia Films
The Succession (Arg-Uru)
Dir. Martin Kalina (Arg)
Prod. Pasto Cine
The Passing Deaths (Uru)
Dir. Agustín Banchero (Uru)
Prod. Tarkiofilm
Stay Still (Peru)
Dir. Joanna Lombardi (Peru)
Prod. El Árbol Azul.