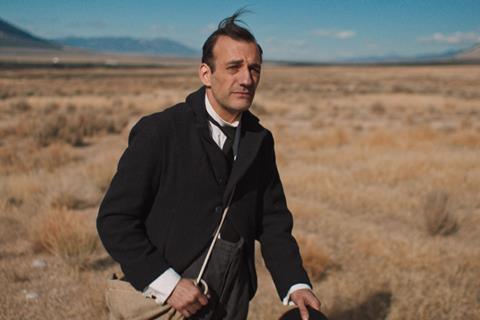 Anick Poirier's Montreal-based Seville International arrives in Toronto with a sales roster comprising the previously unannounced The Great Darkened Days and Broken Mirrors, as well as Firecrackers, and Toronto world premiere The Death And Life Of John F. Donovan.
The world premiere of Maxime Giroux's The Great Darkened Days receives its first public screening on September 10 and hails from the director of former Canadian Oscar submission Felix And Meira. The P+I screening is set for September 8.
Martin Dubreuil, Sara Gadon, Reda Kateb, Romain Duris, and Cody Fern star in the Contemporary World Cinema entry that unfolds in the American West during a world war, where a draft-dodger from Quebec survives by competing in Charlie Chaplin impersonation contests. As the man makes his long journey home, he encounters various characters under the influence of a madness borne of the chaotic times.
Firecrackers centres on two women who plan to exact revenge on an ex after he violates one of the women. Jasmin Mozaffari directed, working with an almost entirely female production team. Michaela Kurimsky and Karena Evans star in the Discovery selection, which screens to press and industry tomorrow (September 7) and receives its world premiere in TIFF and plays to the public on September 8.
Poirier and her team have pre-sold many territories on Dolan's The Death And Life Of John F. Donovan, which gets its world premiere in Special Presentations on September 10 and stars Kit Harrington, Jacob Tremblay, Natalie Portman, Susan Sarandon, and Thandie Newton.
The drama follows a young actor as he reminisces about the correspondence he enjoyed with a late American TV star.
Poirier's roster includes Israeli drama Broken Mirrors does not play in TIFF and centres on a 17-year-old girl under the shadow of a strict military father who uncovers a secret from her parent's past. Aviad Givon and Imri Matalon directed the film, which stars Shira Haas from Foxtrot.
Seville International has licensed French rights to Jour2Fete on Denys Arcand's The Fall Of The American Empire, which follows an intellectual forced to work as a deliveryman who becomes caught up in a botched heist and gets the opportunity to walk off with millions.
The film, which takes a wry look at capitalism and premieres in Special Presentations on September 6, has grossed CAD $2.65m (US $2m) at the Québec box office.
Documentary Anthropocene receives its world premiere in Special Presentations today (September 6) and examines man's impact on the planet and is directed by Jennifer Baichwal, alongside co-directors Nicholas de Pencier and Edward Burtynsky.
Rounding out the slate is The Fireflies Are Gone, Sébastien Pilote's Contemporary World Cinema selection about a disaffected young woman who finds a outlet for her expression when she meets an aimless guitarist and his family. The film has a P+I screening today (September 6) and receives its North American premiere and the first public screening is on September 11.