Sony's comedy debuts top with $2.3m (£1.43m), including previews; Universal's Lucy crosses £10m and led Fri-Sun with $1.9m (£1.19m).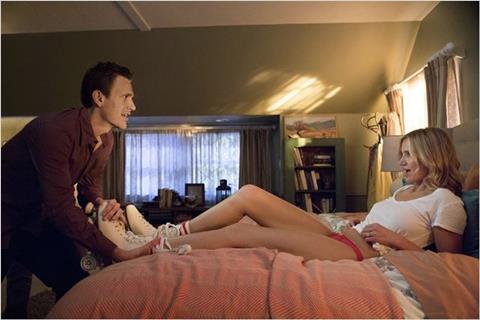 Sex Tape has done what it couldn't do in the US, landing top of the UK box office on debut.
Sony's comedy scored a $2.3m (£1.43m) bow from its 441 sites, including $717,000 (£445,000) in previews. That marks director Jake Kasdan's second best-ever UK debut, behind Bad Teacher's $3.2m (£2m) from 427 sites.
Bad Teacher is also Kasdan's best-ever UK performer with $12.4m (£7.7m) and Sex Tape's holdover this coming weekend will indicate whether it has any chance of challenging it.
Based solely on Fri-Sun takings, it's worth noting that Sex Tape would have charted second with $1.6m (£985,000), behind Lucy.
Also for Sony, Deliver Us from Evil has grossed $2.1m (£1.3m) after three weeks in play.
UNIVERSAL
It might have been prevented from a third straight week at the summit, but Lucy has now crossed £10m at the UK box office. Universal's action sci-fi fell 39% on its way to $1.9m (£1.19m) - leading the way over Fri-Sun - for a healthy $16.8m (£10.44m) to date.
Also for Universal, The Boxtrolls stacked up $1.102m (£684,000) from previews on Saturday and Sunday ahead of its release this Friday [Sept 12], while As Above, So Below fell 67% in its second weekend to scare up $210,000 (£130,000) for $1.3m (£816,000).
Boyhood stands at $4.5m (£2.8m).
STUDIOCANAL
Before I Go to Sleep woke up at the UK box office with an sturdy opening of $1.3m (£790,270) from its 363 sites through StudioCanal.
Rowan Joffe's adaptation of S. J. Watson's best selling novel achieved the director's strongest UK debut and will shortly become his best-ever UK performer, currently Brighton Rock's $1.7m (£1.04m).
EONE
Based on Richard C. Morais' novel, eOne's The Hundred-Foot Journey charted fourth after a $1.11m (£691,343) debut from its 498 sites. That marks director Lasse Hallström's fifth best UK bow, behind Safe Haven's $1.4m (£847,692) from 388 sites.
The Hundred-Foot Journey enjoyed its best day on Saturday (up 80% on Friday), but it'll likely be its mid-week returns that determine its longevity at the box office.
Also for eOne, The Grand Seduction posted a second weekend of $36,000 (£22,400) for $147,000 (£91,000) to date.
DISNEY
Guardians of the Galaxy added a further $1.09m (£677,000) after falling a respectable 34% in its sixth weekend.
Disney's latest Marvel Studios outing is now up to $41.6m (£25.8m) in the UK, and should surpass X-Men: Days of Future Past's $43.7m (£27.1m) tally to become 2014's highest grossing superhero/comic book film.
Also for Disney, Planes 2: Fire & Rescue took $140,000 (£87,000) for $6.9m (£4.3m) to date, while Million Dollar Arm held onto 174 sites but fell a hefty 79% in its second weekend for $52,000 (£32,000) and a ten-day total of $439,000 (£272,000).
FOX
Dropping 43% (excluding previews) in its second weekend, Fox's Let's Be Cops added $1.07m (£663,761) for $5.1m (£3.1m) to date. As expected, the action comedy is now director Luke Greenfield's best-ever UK performer.
Also for Fox, Dawn of the Planet of the Apes and How to Train Your Dragon 2 stand at $52.13m (£32.35m) and $38.9m (£24.1m), respectively.
ENTERTAINMENT
Now in its fifth week of release, Entertainment's The Inbetweeners 2 took an additional $1m (£632,732) to climb to an excellent $52.06m (£32.31m). It will shortly overtake Dawn of the Planet of the Apes to become the second highest grosser of 2014.
ICON FILM DISTRIBUTION
Film4 FrightFest opener The Guest checked in with a $506,000 (£312,970) debut from its 274 sites through Icon Film Distribution.
That's down on the $846,000 (£523,549) bow of director Adam Wingard's previous UK outing You're Next, but it's worth noting that did include $275,000 (£169,997) in previews and came from slightly more sites at 318.
You're Next went on to take $1.9m (£1.2m) and The Guest will need a sturdy hold to have a chance of surpassing that.
WARNER BROS
Warner Bros' adaptation If I Stay grossed $384,000 (£237,755) in its second weekend for a ten-day tally of $1.8m (£1.14m), while Into the Storm has swept up $4.3m (£2.6m) after three weeks in play.
Also for Warner Bros, Island of Lemurs: Madagascar opened in 16 IMAX sites to take $5,400 (£3,341).
LIONSGATE
Sin City: A Dame to Kill For posted a second weekend of $241,000 (£149,393) from its 268 sites through Lionsgate and has now taken $2.6m (£1.6m), still less than the entire opening weekend of its predecessor.
Also for Lionsgate, The Expendables 3 has shot its way to $6.2m (£3.9m) after four weeks in play, while They Came Together grossed $35,000 (£21,951) from its 20 sites on debut. The latter also received a day-and-date VoD release.
ARTIFICIAL EYE / CURZON FILM WORLD
The Dardenne Brothers' best-ever UK performer Two Days, One Night has amassed $962,000 (£597,400) through Artificial Eye, a tally that's especially impressive given it's been available on VoD since its release date.
Released in 22 sites through Curzon Film World (and also simultaneously on VoD), Life of Crime posted a UK debut of $34,000 (£21,202).
DOGWOOF
Alex Gibney's latest documentary Finding Fela started its UK run with $31,000 (£19,281) from its 23 sites through Dogwoof.
METRODOME
For Metrodome, The Guvnors recorded an $11,700 (£7,266) second weekend for $165,000 (£102,499), while Attila Marcel grossed $5,400 (£3,348) from its three sites on debut.
UPCOMING RELEASES
This week sees a saturation release for Universal's The Boxtrolls, as eOne's A Most Wanted Man and Fox/Pathe's Pride both receive wide releases.
Warner Bros' The Wizard of Oz receives a 3D IMAX release, while Metrodome's In Order of Disappearance, Soda's A Spell to Ward Off the Darkness and Fox's Finding Fanny are among the films receiving a limited release.