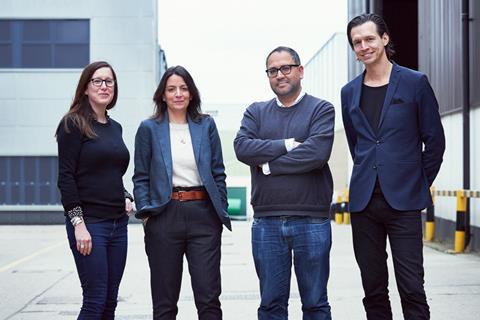 Nordic distribution and production company SF Studios is expanding its London team, which leads the company's English-language productions, with the addition of Sudie Smyth as VP Production UK & International, and Indy Datta, VP Legal & Business Affairs UK & International. Both will report to Fredrik Wikström Nicastro, SVP International Production at SF Studios, and work closely with Kate Myers, VP Development UK & international.
Datta previously worked at Buccaneer Media and Smyth was previously head of production at Pinewood Pictures.
The UK team is launching a new international production, survival thriller Don't Move to be directed by Alain Darborg. His original story is about a medical student who finds herself trapped in a zoo's anaconda enclosure overnight.
SF Studios will finance and produce Don't Move and also distribute it in the Nordics; the film will shoot by the end of 2020 and the team is casting now. Wikström Nicastro called it "an entertaining survival thriller…but also with social relevance."
Swedish director Darborg is currently directing Netflix's first original film, Red Dot.
SF's international remit includes working on English language projects "mainly based on Nordic IPs or with Nordic talent behind the camera," Wikström Nicastro said in Berlin. Most of the international projects are budgeted at $10m-$30m.
SF's first big international production, Horizon Line, is sold by STX, who is showing a promo at the EFM (the film will be released later this year and it sold out in most of the world.)
The international slate also includes Baltasar Kormakur directing an adaptation of Jo Nesbo'sI Am Victor.
In Denmark, SF is readying a March 2 start of shoot for Charlotte Sieling's Margrete – Queen of the North. Trine Dryholm was recently announced to lead the cast in the historical epic, and other actors newly confirmed include Paul Blackthorne (Arrow), Bjorn Floberg (Out Stealing Horses), Linus James Nilsson (Jimmy Jones) and Halldóra Geirharðsdóttir (Woman at War).
The Euros 9m production will shoot mostly at Barrandov Studios in the Czech Republic but also second unit across Scandinavia, through late April. The latest partner to join the project is Iceland's Truenorth.
SF's production slate in Denmark also includes Bille August's The Pact, about the writer Karen Blixen in a manipulative relationship with a younger poet. August, speaking in Berlin, said he was attracted to this story of "manipulation, power and love." The cast will be announced on March 24 when the film starts shooting on Danish island Funen and also in Belgium. Producers are Lars Bredo Rahbek of SF Studios and Jesper Morthorst of Motor Productions. The Euros 3.5m project is a Denmark-Belgium-Norway co-production.
More projects with Finland's Cinematic
Separately, SF Studios is working Antti J. Jokinen's Finnish production company Cinematic to develop and distribute Comet in Moominland, a family animation, and When the Doves Disappeared, a drama about one Estonian family in World War 2.
The new 4K animation remake of Comet in Moominlandwill be readied in four languages: Finnish, Japanese, Swedish and English, and will launch in autumn 2020 for the 75th anniversary of the Moomins. The directors are Hiroshi Saito, Markus Backman and Carla Rindell.
SF is already collaborating with Cinematic on the new action thriller series Omerta.
The Omerta project, written and directed by Jokinen and adapted from Finland's best-ever selling book by Ilkka Remes, is being designed as two feature films (Omerta 6/12to launch in 2021 and Omerta 7/12in 2022) and a 6x50' TV series for C-More.
Omerta, which stars Jasper Pääkkönen (BlacKkKlansman, Vikings), is described as a "Scandinavian James Bond" and will shoot starting in September for 80 days in Estonia (including studio work), Helsinki and Stockholm.
Jokinen told Screen that the project is 85% in the English language. The story involves a terror attack on Finland's Independence Day, and is set over 48 hours – 24 hours covered in each of the feature films.
REinvent is handling sales on Omertaas part of its new expanded deal with SF Studios.