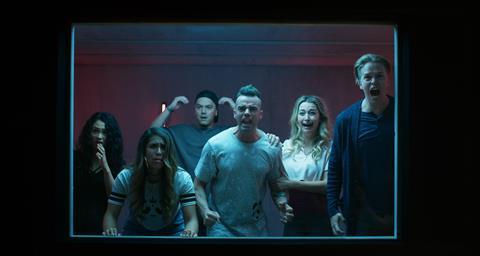 Stockholm-based SF Studios has sold its new English-language horror film Funhouse to CIS (Exponenta Film) and Taiwan (Cai Chang International Inc).
Canadian filmmaker Jason William Lee (The Evil in Us) directed the film which was produced by Michael Gyori of Canada's Sandcastle Pictures and Henrik Santesson of Sweden's Ti Bonny Productions. The Sweden-Canada co-production will market-premiere at the Asian Film Market in Busan with a distributors-only screening on October 6.
SF Studios says the Asian Film Market launch is a first for the company, adding that it felt like the right place to unveil Funhouse to buyers given the film's international slant and a narrative that touches upon how social media affects people's lives.
The films stars Valter Skarsgard (Lord Of Chaos), Christopher Gerard (Arrow) and Gigi Saul Guerrero (La Quinceanera) and follows down-and-out backing singer and celebrity ex-husband Kasper as he is invited to compete in the Funhouse, an online Big Brother-style reality show.
He joins seven other C-list celebrities from around the globe to compete for a $5m prize, only to see the budding friendships, love connections and brewing rivalries go awry one of the contestants is brutally murdered during the first challenge.
SF Studios, which is handling international sales and will distribute Funhouse in Scandinavian markets, will be at the EFP umbrella stand in the Asian Film Market. A Swedish release is scheduled for January 2020.