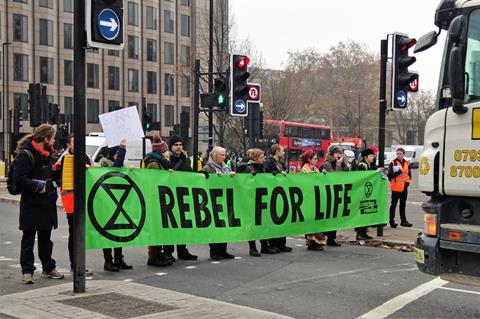 Projects on climate change movement Extinction Rebellion and the Saudi Arabia women's football team are among those selected for Sheffield Doc/Fest's 2020 online marketplace MeetMarket.
The documentary market will take place via virtual video-conferencing from June 8-10 June, with the Alternate Realities Talent Market running on the same dates.
Among the 48 projects from 500 applications selected for the MeetMarket is XR Beyond The Emergency from the UK. Directed by Maia Kenworthy and Elena Sánchez Bellot and produced by Katrina Mansoor, it centres on the ordinary people who are devoting their lives to civil disobedience as part of global climate protest movement Extinction Rebellion.
Also selected is an untitled UK-Canada-UAE co-production following three ladies leading Saudi Arabia's female football team through its first international season. The project is directed by Sarah McCarthy and Anjali Nayar and produced by Tewe Pannier.
Nayar is also director of US-Canada-Kenya co-production Just A Band, about four Kenyans who drop out of university to form an Afroelectric pop group. Producers on the project include Wanuri Kahiu, who directed 2018 festival hit Rafiki.
Twenty of the 48 projects have a first-time filmmaker attached to direct, while 21 are from directors who have completed one to three films.
The seventh edition of the Alternate Realities Talent Market has chosen 20 teams to match with curators, exhibitors, distributors and funding bodies to assist their storytelling using digital technologies. Those chosen include Screen Star of Tomorrow 2018 Baff Akoto, whose current projects are Leave The Edges and Elevated Swagger.
Thirty countries are participating in the market across both sections.
"We've had an overwhelmingly positive response from our global network of industry decision-makers since we announced the plan to run a virtual market this year," said Patrick Hurley, Doc/Fest's director of marketplace and talent. "The feedback from participants in Thessaloniki and CPH:DOX has been great and us market-organisers are talking to each other plenty to share tips on best practices."
The main Doc/Fest programme had been due to run from June 4-9. However last month it was changed to run selected films over a series of weekends throughout the autumn, with talks, panels and artists events.
Doc/Fest MeetMarket 2020
Against the Tide (Ind) Dir: Sarvnik Kaur
Airborne (Ind) Dir: Shaunak Sen
Are You Wearing You!? (Uga-SA) Dir: Nikissi Serumaga
Atomic Hope (Ire) Dir: Frankie Fenton
Bam Bam: The Story Of Sister Nancy (Can) Dir: Alison Duke
Bella (US) Dirs: Bella Graves, Adam Dietrich
Caring for Kathryn (US) Dir: Adam Isenberg
Children Of The Mist (Vie) Dir: HA LE Diem
Don't Call Me Mad (UK-Ger) Dir: Zora Kuettner
Dreamer (Aze-Cze) Dir: Imam Jabirowich Hasanow
Dreaming Walls (Bel-Fr-Neth-Swe) Dir: Amélie van Elmbt
Drifting Images (Chile) Dir: Nicolás Tabilo
Driver (US) Dir: Nesa Azimi
Eat / Sleep/ Cheer / Repeat (Ire) Dir: Tanya Doyle
Eskape (Fr) Dir: Neary Adeline Hay
F@CK This Job (UK) Dir: Vera Krichevskaya
Friends Not Food (US) Dir: Jason Goldman
Hello Stranger (UK) Dir: Beryl Richards
How To Build A Library (Ken) Dirs: Maia Lekow & Christopher King
I Am Sarah (UK-Ger) Dir: Charly Wai Feldman
In Whose Name? (Bra-US) Dirs: Veronica Medina-Matzner, Natalia Castro Leite
Just A Band (US-Can-Ken) Director: Anjali Nayar
La Vida Es Un Musical (Den-Swe) Dir: Patty Pajak
Landlock (US) Dir: Alex Pritz
Made In Ethiopia (UK-US-China) Dirs: Max Duncan, Xinyan Yu
Midwives (Mya-Ger-Can) Dir: Hnin Ei Hlaing
Murderabilia (US-France) Dir: Nora Mandray
Nameless (HK-China-US) Dir: Jennifer Ngo
Nightcrawlers (Nor-Swe) Dirs: Petter Aaberg, Sverre Kvamme
Of Boys And Men (Den) Dir: Anders S. Jepsen
On The Edge (Ind) Dirs: Anupama Srinivasan, Anirban Dutta
Our Daughters (US) Dir: Chithra Jeyaram
Polymers (Est) Dir: Denis Shabaev
Roma (Ukr-Neth-Den) Dir: Olga Zhurba
Siunissaq - The Last Human (Den-Greenland-Nor) Dir: Ivalo Frank
Softly In All Directions (US) Dir: Anna Barsan
Song Of Giants (UK) Dir: James Rogan
Stories From The Debris (Swe-Fr) Dir: Jennifer Rainsford
The Break Of The Brick (Chile) Dirs: Carola Fuentes, Rafael Valdeavellano
The House Is Still Dark (Den-Chile) Dir: Felipe Roa Pilar
The Last Year Of Darkness (China-US) Dir: Ben Mullinkosson
The Pathan Sisters (Fr) Dir: Eléonore Boissinot
The Sixth Wall (US) Dirs: Noah Collier, Emily Mackenzie
The Vinyl Records: Destroy Phallus Oppression (Australia) Dirs: Juhi Sharma, Em Baker
To Set A Prisoner Free (Swe) Dir: Reece Smith
Untitled Courtney Barnett Documentary (Australia) Dir: Danny Cohen
Untitled Saudi Football Girls (UK-Can-UAE) Dirs: Sarah McCarthy, Anjali Nayar
XR Beyond the Emergency (UK) Dirs: Maia Kenworthy, Elena Sánchez Bellot