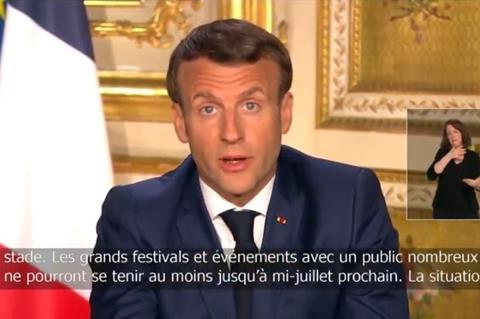 Prospects for a rescheduled Cannes Film Festival took a blow on Monday (April 13) as France extended the national lockdown through May 11 to slow the spread of covid-19, and banned large gatherings, including festivals, until mid-July.
French president Emmanuel Macron announced the extension in a televised address, updating the nation on the measures that would remain in place as the country battles the pandemic.
Macron said the aim was to reopen France progressively from May 11, if sufficient progress had been made in reducing the spread of the virus.
Monday's development will spark further talk within the international film industry on whether Cannes could take place even later in the year, around September and October, especially with speculation mounting on whether the Venice Film Festival will retain its late August/early September dates, or even go ahead.
"Hopes are growing, but it's not over," Macron said. "In the east of the country as well as in Ile-de-France region, hospital services are saturated. Everywhere else in the country and in the overseas territories, the system is under pressure."
The government's priority, he said, was to reopen workplaces and schools, where sufficient protective and spacing measures could be put in place. Places of higher education would not reopen for the summer term, with lessons taking place online instead.
Macron added, however, that public places such as cafes, hotels, cinemas, theatres, concert halls and museums would remain closed until further notice.
"Big festivals and events with a large audience will not be able to take place at least until mid-July," he said.
Cannes top brass had been hoping to hold the 73rd edition around the end of June and early July after announcing on March 19 they were dropping the original May 12-23 festival dates.
The decision also leaves the country's distribution and exhibition sectors in limbo. They have been at a standstill since the enforced closure of cinemas on March 14.
Cannes Film Festival did not respond immediately to a request for comment on what the new measures meant for its 73rd edition but was expected to put out a statement on Tuesday (14). In a normal year, the festival would have been on the verge of announcing its Official Selection in a press conference in Paris on April 16.
Up until now, the festival has continued to accept submissions and delegate general Thierry Frémaux and his selection committee are working as normal, albeit at home. The film world will be awaiting the festival's next move.