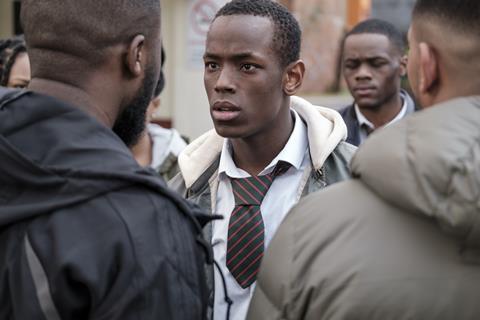 UPDATE: UK exhibitor Showcase reportedly reinstated Blue Story on Monday night (25) after its initial decision to pull the London gangland crime drama following a brawl sparked a backlash.
According to reports, the chain reversed its decision following careful consultation with the film's UK distributor Paramount. Showcase operates 21 sites across the UK. At time of writing there was no indication that Vue had reversed a decision to withdraw the film from its venues.
EARLIER REPORT: UK cinema chain Vue has responded to criticism over its decision to withdraw Paramount's Blue Story from its sites yesterday by revealing there were "25 significant incidents" at screenings in the first 24 hours of the film.
In a statement the cinema chain said: "The decision to withdraw Blue Story was not one taken lightly or without careful consideration of our experience across the country. The film opened in 60 of our sites across the UK and Ireland on Friday 22 November, but during the first 24 hours of the film over 25 significant incidents were reported and escalated to senior management in 16 separate cinemas. This is the biggest number we have ever seen for any film in a such a short time frame.
"Despite a range of precautionary measures in place, including increased security, removal of late-night showings and reduced screenings of the film, the decision to withdraw Blue Story in its entirety was made on Saturday evening on grounds of safety alone. While we are disappointed that these are the actions we have had to take, we hope it is understandable that we cannot, and will not, take any risks with regard to the welfare and safety of our staff and our customers. Unfortunately, the actions of a significant few have spoiled the opportunity for others, but we stand by our decision to withdraw the film from our schedule indefinitely.
"This decision is not, as some have alleged, based on biased assumptions or concern about the content of the film itself. At Vue, we believe passionately in bringing people together and using the power of the big screen experience to entertain, educate and inspire all of our audiences. Blue Story is a fantastic film and one with a very powerful message. It is a film that has the opportunity to change lives. We hope that Blue Story achieves the success it deserves and importantly its message does not get lost."
Vue removed Blue Story from its venues following reported violence at a site in Birmingham on Saturday, with Showcase Cinemas also subsequently withdrawing the film.
The decision has drawn a significant online backlash, with the film trending on Twitter by Monday morning and #NoBlueNoVue one of several hashtags set up to support the film.
Distributor Paramount, who released the film on Friday (November 22), and production company BBC Films have both commented on the removal of Blue Story.
"We were saddened to see the events that unfolded at Star City and our sympathies are with all those affected," a representative for Paramount told Screen.
A representative for production company BBC Films added: "Blue Story is an outstanding, critically acclaimed debut feature which powerfully depicts the futility of gang violence. It's an important film from one of the UK's most exciting new filmmakers which we're proud to be part of."
Blue Story, directed by Rapman, follows Timmy and Marco, two best friends from south London who are separated by a gang war between the postcodes where they live.
The film made £1.3m in its opening weekend at the UK box office.