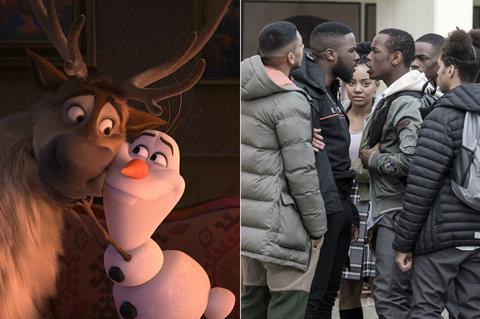 | Rank | Film (Distributor) | Three-day gross (Nov 22-24) | Total gross to date | Week |
| --- | --- | --- | --- | --- |
| 1 | Frozen II (Disney) | £15.1m | £15.1m | 1 |
| 2 | Last Christmas (Universal) | £2.2m | £6.7m | 2 |
| 3 | Blue Story (Paramount) | £1.3m | £1.3m | 1 |
| 4 | Le Mans '66 (Disney) | £1.2m | £4.2m | 2 |
| 5 | 21 Bridges (STX) | £655,000 | £655,000 | 1 |
Today's GBP to USD conversion rate: 1.29
Disney
Disney's animated sequel Frozen II grossed a huge £15.1m for top spot, breaking the company's own record for biggest opening for an animated film, set by Toy Story 4 with £13.3m earlier this year.
Frozen II scored a £22,504 location average from 671 sites, also surpassing the £19,231 average recorded by Toy Story 4. It is the third-highest three-day opening of 2019, behind Avengers: Endgame (£31.5m) and The Lion King (£16.7m).
With Toy Story 4 and Captain Marvel (£12.8m) currently in fourth and fifth place, Disney has reclaimed the five highest opening weekends of the year (Warner Bros' Joker is in sixth with £12.6m).
Le Mans '66 held well on its second weekend, falling just £38% with £1.2m bringing it to £4.2m.
Maleficent: Mistress Of Evil added £235,000 for £14.4m; Terminator: Dark Fate added £59,000 and has £7.3m; while Twentieth Century Fox's Judy has £8m.
Nicolas Bedos' Cannes 2019 title La Belle Epoque opened in 23 venues, grossing £30,000. With previews and festival screenings, it has £54,000 total. The Pathé film was released by Disney, on behalf of Twentieth Century Fox.
Universal
After dethroning Joker last time out, Last Christmas posted an excellent hold on its second weekend, falling just 15% with £2.2m taking it to £6.7m total. This was not enough to hold off Frozen II, but comfortably kept it in second place.
The Addams Family added £241,374, a drop of 62.3%, and has £9.4m in total.
Awards contender Harriet, starring Cynthia Erivo as slave-turned-abolitionist Harriet Tubman, opened to £108,119 from 180 locations – a low £656 location average. It has £115,119 including previews.
Abominable added £107,433 and has £8m after seven weekends.
Paramount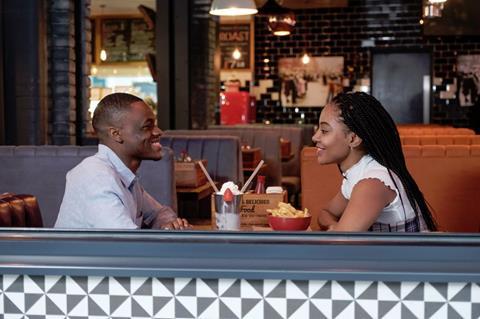 Paramount Pictures' Blue Story has made an excellent start at the UK box office with a £1.3m opening weekend, despite Vue and Showcase pulling the film from all their venues on Sunday, November 25.
That figure was enough for third spot in the chart. Written and directed by Screen Star of Tomorrow 2019 Rapman, the film played in 310 locations across the weekend, grossing £4,194 per location.
This is an excellent result for a debut feature director with a largely unknown cast; even more so when taking into account the film's removal from many locations.
The decisions by Vue and Showcase have drawn a significant online backlash, with hundreds of tweets to the hashtag #NoBlueNoVue and criticism from lead actor Micheal Ward and Top Boy star Ashley Walters among others. Paramount and BBC Films have also issued statements in response to the situation.
Paramount's Gemini Man added £7,700 and has £4.7m to date.
STX Entertainment
Cop thriller 21 Bridges starring Chadwick Boseman opened to £655,000 from 408 locations for a reasonable £1,608 location average.
Countdown took £11,000 and stands at £1.5m after five weekends.
Warner Bros
After a record-breaking six-week run in first place, Joker suffered its biggest percentage drop so far, falling 50% in taking £505,000. However, it has still broken into the top 25 titles of all time in the UK, currently holding 23rd place with £57.1m. It will expect to overhaul The Lord Of The Rings: The Two Towers on £57.6m, with the third and first titles in the Lord Of The Rings series the next targets on £61.1m and £63m respectively.
The Good Liar added £258,000 on its third weekend and has £3.2m, while Doctor Sleep added £44,000 on its fourth and also has £3.2m.
Studiocanal
A Shaun The Sheep Movie: Farmageddon added £126,503 and has £6.7m after six weekends.
Lionsgate
Second World War drama Midway took £78,311 on its third weekend and has £1.9m in total.
Eros International
Bollywood action comedy Pagalpanti opened to £75,400 from 56 locations, a reasonable £1,346 location average. Romance Marjaavaan added £38,478 and has £214,687 after two weekends.
Picturehouse Entertainment
Mirrah Foulkes' Judy & Punch opened to £46,515 from 70 locations, a £674 location average. With previews the film has £66,960 in total.
Sony
Zombieland 2: Double Tap added £44,000 and is up to £4.4m.
Thriller Them That Follow starring Olivia Colman performed poorly, bringing in just £5,000 from 104 locations for a £48 location average.
eOne
The Aeronauts added £33,511 to its total, which now stands at £1.7m after three weekends. Ken Loach's Sorry We Missed You added £30,256 and has £1.1m after four sessions, while Official Secrets added £18,060 and has £2.3m after six.
An event cinema release of a concert from US rock group The Lumineers played in four locations on Thursday, November 21, grossing £542 total.
Curzon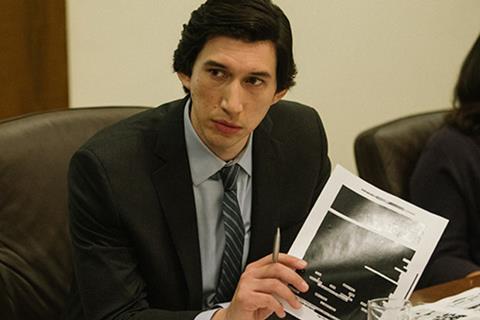 Adam Driver-led political thriller The Report took £15,196 on its second weekend, a drop of 46.3%, and has £85,624 in total.
BFI Distribution
Rock opera Tommy, released as part of the BFI's Musicals season, brought in £3,755 from 3 sites for a £1,252 location average.
Trafalgar Releasing
In the week when it acquired fellow event specialists More2Screen, Trafalgar had event releases in cinemas.
RSC Timon Of Athens took £40,980 on Wednesday, November 20; Depeche Mode: Spirits In The Forest took £281,582 on Thursday 21; while Met Opera – Akhnaten brought in £155,889 on Saturday 23.