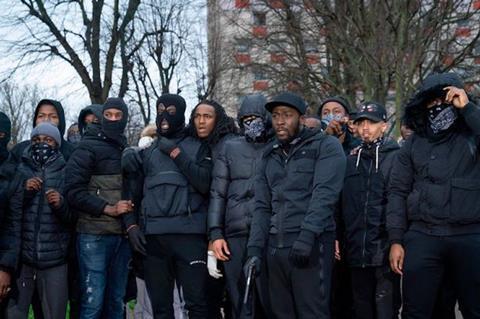 Showcase Cinemas has become the second UK cinema chain to remove Paramount Pictures' Blue Story from its venues.
It has followed Vue Cinemas in the move, after reported violence at a Vue cinema in Birmingham on Saturday, November 23 to which the exhibitors are linking the film for reasons that remain unclear.
A message on the Showcase telephone booking line advises customers: 'Unfortunately we're not currently showing this film at this cinema', then directs them to book for a different film if they wish.
As of this morning (Monday, November 25), the film is still listed on the Showcase Cinemas website; however, no screenings are available to book at any of Showcase's 21 UK venues.
According to reports, the film has taken £1.3m from 311 sites - a location average of £4,148. Full figures will be confirmed later today.
Distributor Paramount and production company BBC Films have both commented on the removal of the film – the debut feature of UK writer-director Rapman – from cinemas.
"We were saddened to see the events that unfolded at Star City and our sympathies are with all those affected," a representative for Paramount told Screen.
"We feel that this is an important film, which we've seen play in more than 300 cinemas across the country, with incredibly positive reactions and fantastic reviews.
"We thank all our exhibition partners for their ongoing support."
A representative for BBC Films said, "We are appalled by the incident at Star City and our thoughts are with all those affected by it.
"Blue Story is an outstanding, critically acclaimed debut feature which powerfully depicts the futility of gang violence. It's an important film from one of the UK's most exciting new filmmakers which we're proud to be part of."
Directed by Star of Tomorrow 2019 Rapman, Blue Story opened on Friday, November 22. It follows Timmy and Marco, two best friends from south London who are separated by a gang war between the postcodes where they live. Fellow Screen 2019 Stars Isabella Odoffin and Mdhamiri Nkemi were casting director and editor respectively on the film.
Online backlash
The decision by Vue and subsequently Showcase to remove the film has been met with substantial criticism online. At 3pm GMT on Sunday, November 24, both 'Rapman' and 'Blue Story' were in the top 10 trending topics on Twitter in the UK.
#NoBlueNoVue was one of several hashtags created to support the film, and had been used several hundred times as of Monday morning.
Micheal Ward, who plays Marco in the film, responded to its removal with a series of posts via Twitter on Sunday, including the below.
If you haven't seen Blue Story yet. Please go and see it today. This Birmingham Vue situation has effected what we've wanted to achieve but we can still sell out all other cinemas. We don't need @vuecinemas to prosper. Go watch the best British film of the year 🙏🏾❤️

— Micheal Ward🇯🇲 (@onlymikes_) November 24, 2019
Industry figures to criticise the decision included Ashley Walters, star of Netflix series Top Boy, which also depicts criminal activity in contemporary London.
Walters posted a series of videos on his Instagram stories, in which he said, "Disappointed. This is bad. We need to stop this stuff. Rapman took his time to make this brilliant film, to give it to the people. There hasn't been a film like this in the cinema for time, for these exact reasons.
"We're always getting shut down, our things are always getting shut down. Man tries to excel himself and people just bring that madness. It's just so mad how something so good can turn into something so stupid. My man's film is banned in all the Vues – it's ridiculous. Rapman – big up, my brother. You've done well, people are still going to go out and watch it, whether it's in Vue or not.
Walters also addressed those reportedly involved in the violence. "To all of you youths that are carrying on with this stupidness – it's not good," he said. "I'm not trying to preach but it's not good for anyone and you're destroying your own future. If you keep on shutting down things like this, by the time you're at the right age or in the place where you want to do things, it's going to be much more difficult for you."
"All we're doing out here is trying to keep those doors open for the next generation to come through, you have to understand that."
Walters, a 2004 Screen Star of Tomorrow, previously had a role in part 3 of Rapman's hit 2018 YouTube series Shiro's Story.
Odeon, the UK's second-biggest cinema chain by market share behind Cineworld and ahead of Vue, told Screen on Sunday it was looking at its security measures and programming following the incident in Birmingham.
"We have a number of security measures in place for this film, and are currently reviewing these along with our programming, in order to continue to put the safety of our guests first," said an Odeon representative.
Screen has contacted Cineworld for comment.