Ursula Meier's Sister and documentary More Than Honey were the big winners at this year's Swiss Film Awards.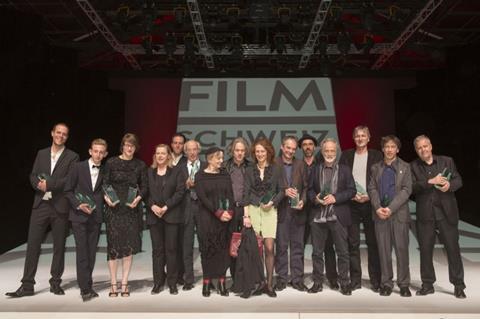 The drama picked up three Quartz trophies for Best Film, Best Screenplay (co-written with Antoine Jaccoud) and Best Actor for teenager Kacey Mottet Klein.
Sister is set at a Swiss ski resort and centres on a boy who supports his sister by stealing from wealthy guests. The film premiered at the 2012 Berlinale where it received a Silver Bear and is handled internationally by Memento Films.
Documentary winners
At the awards ceremony in Geneva on Saturday evening, Swiss documentaries were particularly successful.
Best Documentary went to Markus Imhoof's More Than Honey, which also won Best Film Score for Peter Schererhas. The film, which examines honeybee colonies around the world, has recorded more than 200,000 admissions in Swiss cinemas.
Another doc that picked up two Quartz trophies included Hiver Nomade, winning Best Cinematography for Camille Cottagnoud and the Swiss Film Academy's Special Prize for Karine Sudan's editing.
The Best Animation Film award went to brothers Frédéric and Samuel Guillaume's doc La nuit de l'ours.
This year's Honorary Award was presented to documentary film-maker Jacqueline Veuve who was prevented by ill-health from accepting the distinction in person, but was represented by her husband Leopold.
The evening's favourite, Marcel Gisler's Rosie, which had received six nominations, took home only one Quartz for actress Sibylle Brunner who had played the title role.
Other prizes included Best Supporting Actor for Antonio Buil in Nicolas Wadimoff's Operation Libertad and Best Short Fiction Film for Rolando Colla's Einspruch VI.
Cloud Atlas leads Lola nominations
Awards season continues in Germany where the nominations for this year's German Film Awards, popularly known as the Lolas, were revealed at the weekend ahead of the ceremony in Berlin's Friedrichstadtpalast on April 26.
Big budget epic Cloud Atlas by Tom Tykwer and the Wachowski's led the field with a total of nine nominations including for Feature Film and Best Direction.
As with Roland Emmerich's Anonymous last year, the majority of Cloud Atlas' nominations are in seven technical categories - from Best Cinematography through Best Musical Score to Best Costume Design.
Some observers have again raised the question of the place of English-language productions in the German Film Awards which, they argue, should celebrate the achievements of German cinema.
Oh Boy
Meanwhile, Jan Ole Gerster's debut Oh Boy, whose budget was a fraction of Cloud Atlas' at around €300,000, attracted eight nominations, including Best Feature Film, Best Direction, Best Male Lead (Tom Schilling), Best Supporting Actor (Michael Gwisdek), and Best Screenplay.
Oh Boy, which has been seen by over 230,000 cinema-goers in Germany, is also enjoying considerable success on the international festival circuit – most recently in Sofia where it received the Grand Prix – and is now beginning its theatrical release outside of Germany..
Cloud Atlas and Oh Boy will by vying for the Golden Lola for Best Feature Film with Margarethe von Trotta's Hannah Arendt, Cate Shortland's Lore, Oskar Roehler's Quellen des Lebens and Julian Roman Pölsler's Die Wand.
The honours for Best Documentary will be fought out between Markus Imhoof's Swiss Film Award-winning More Than Honey, David Sieveking's Vergiss Mein Nicht and Arnon Goldfinger's Die Wohnung.
The Lola for the Best Children's Film will be a two-horse race between Cyrill Boss and Philipp Steinert's Das Haus der Krokodile and Leo Khasin's Kaddisch für einen Freund.
Nomination cash prizes
The production companies who have films nominated in the three categories of Best Feature Film, Best Documentary and Best Children's Film, can already consider themselves winners as State Minister for Culture and Media Bernd Neumann has paid out €2.05m in nomination premiums to these titles.
The six films nominated as Best Feature Film received €250,000 each to be invested by the producers in future film projects, while the three nominated documentaries each took home €100,000 and the two children's films €125,000.
Moreover, this year will see an Audience Award being presented again for the first time since 2005 by readers of the listings magazine TV Spielfilm voting for their favourite from the 12 most successful German films of 2012, ranging from the top local production Türkisch für Anfänger through Hanni & Nanni 2 to Koköwääh 2 at www.tvspielfilm.de/Publikumspreis until April 22.
Minister criticises public television
Minister Neumann used the occasion of the nomination event to add his voice to the chorus of concern about German public broadcasters ARD and ZDF's future commitments to the domestic film industry.
"The channels have a distinct cultural obligation and thus an explicit responsibility to contribute to the safeguarding of German and European film production," Neumann declared.
"It is therefore not acceptable that some channels are cutting their financial contributions and are in some cases withdrawing completely from production. German film productions should have the best slots in the schedules just as major sports events do."
Distributors' lobby
Neumann's comments follow the establishment last week of new lobbying group "DI – Die Independents" which has been launched to draw attention to the negative effects for the local film industry of ARD and ZDF's film acquisition and programming policies.
The group of 23 independent German distributors includes Constantin Film, Koch Media, Senator Filmverleih, DCM, StudioCanal and Wild Bunch Germany and has its headquarters in Munich.
In a first communiqué, the Independents noted that the broadcasters' self-imposed focus on ratings meant they no longer considered such highly decorated and Oscar-winning films as The Artist, Midnight In Paris or Habemus Papam as being suitable for the prime-time schedules.
The consequence was that "the cultural diversity of the German film landscape and the range of films on offer in Germany faces becoming impoverished."
Trade associations of German producers, screenwriters, film directors, actors as well as the German Film Academy also aired their concerns in public statements in recent weeks.
Full list of Lola nominatons
Best Film
Cloud Atlas
Hannah Arendt
Lore
Oh Boy
Quellen Des Lebens
Die Wand
Best Documentary
More Than Honey
Vergiss Mein Nicht
Die Wohnung
Best Screenplay
Pam Katz, Margarethe von Trotta – Hannah Arendt
Jan Ole Gerster – Oh Boy
Anna Maria Praßler – Schuld Sind Immer Die Anderen
Best Director
Jan Ole Gerster – Oh Boy
Margarethe von Trotta – Hannah Arendt
Lana Wachowski, Andy Wachowski, Tom Tykwer – Cloud Atlas
Best Actress
Martina Gedeck – Die Wand
Birgit Minichmayr – Gnade
Barbara Sukowa – Hannah Arendt
Best Actor
Edin Hasanovic – Schuld Sind Immer Die Anderen
Tom Schilling – Oh Boy
Sabin Tambrea – Ludwig II
Best Supporting Actress
Margarita Broich – Quellen Des Lebens
Friederike Kempter – Oh Boy
Christine Schorn – Das Leben Ist Nichts Für Feiglinge
Best Supporting Actor
Michael Gwisdek – Oh Boy
Robert Gwisdek – Das Wochenende
Ernst Stötzner – Was Bleib
Best Cinematography
Adam Arkapaw – Lore
Jakub Bejnarowicz – Gnade
John Toll, Frank Griebe – Cloud Atlas
Best Editing
Alexander Berner – Cloud Atlas
Anne Fabini – More Than Honey
Anja Siemens – Oh Boy
Best Production Design
Susann Bieling – Die Abenteuer Des Huck Finn
Uli Hanisch, Hugh Bateup – Cloud Atlas
Udo Kramer – Die Vermessung Der Welt
Best Costumes
Kym Barrett, Pierre-Yves Gayraud – Cloud Atlas
Stefanie Bieker – Lore
Frauke Firl – Hannah Arendt
Thomas Oláh – Die Vermessung Der Welt
Best Make-up
Jeannette Latzelsberger, Gregor Eckstein, Elke Lebender, Stephanie Däbritz, Julia Rinkl – Quellen Des Lebens
Daniel Parker, Jeremy Woodhead – Cloud Atlas
Astrid Weber – Hannah Arendt
Best Score
The Major Minors, Cherilyn MacNeil – Oh Boy
Max Richter – Lore
Tom Tykwer, Johnny Klimek, Reinhold Heil – Cloud Atlas
Best Sound Design
Christian Bischoff, Uve Haussig, Johannes Konecny – Die Wand
Benjamin Krbetschek, Holger Lehmann – Du Hast Es Versprochen
Stefan Soltau, Björn Wiese, Dominik Rätz – Gnade
Markus Stemler, Ivan Sharrock, Frank Kruse, Matthias Lempert, Roland Winke, Lars Ginzel – Cloud Atlas
Best Kids' Film
Das Haus Der Krokodile
Kaddisch Für Einen Freund