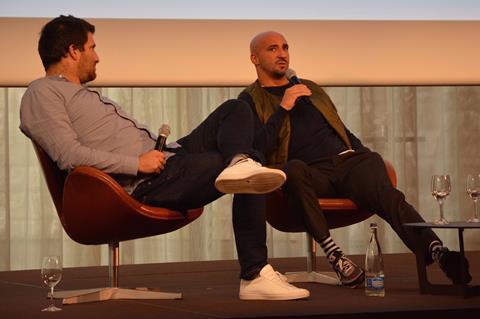 The Zurich Summit, organised in the first weekend of the 16th Zurich Film Festival in Switzerland, brought together experts including CAA's Roeg Sutherland, director Yann Demange, Pulse Films founder Thomas Benski, Film I Vast's CEO Mikael Fellenius, Totem Films partner Agathe Valentin, SRG director general Gilles Marchand, Anton's Cecile Gaget and Berlinale head Carlo Chatrian for the first in-person event of its kind during the Covid-19 pandemic.
Under the title Kick-Starting a New Era, the topics under discussion including the changing financing landscape, the rise of local-language content, and how production, distribution and exhibition and festivals can recover from the pandemic.
Here are some of the key themes that emerged across the Summit's nine sessions.
The streamers are challenging film funders to rethink what they do
The streaming platforms have changed the financing of films, and also changed audience habits. Danny Perkins, founder of new UK-based production-distribution outfit Elysian Film Group, said: "The challenge for film is that the streamers have changed things in so many ways; They bought a lot of money in, and they've democratised documentaries and foreign-language films, but they also raise the bar with what is available to people without leaving their sofa, and that is a challenge for all of us."
Mikael Fellenius, CEO of Sweden's Film i Väst noted public funders were having to rethink their role in the age of the platorms. "Public money is really a having a big challenge in that we have to redesign our own business model. [The rise of Netflix and other platforms] makes us public funders worried about our own relevance to the film world and to production companies. We must think that we can compete differently with our money to be relevant and interesting and diverse, at Film i Väst we are we are launching a new department driving development ourselves."
Perkins said producers don't only have to pick from two extremes. "It's important to have flexibility, You can have both, it's not just streaming OR exhibition," he said. "With Paddington, which we made at Studiocanal, we had a full theatrical release around the world and we had an Amazon window in the UK. We can have the flexibility of having SVOD money in the films, but also having a full theatrical window."
Even though the worlds of film and TV are crossing more than ever, the divide still exists, said director Yann Demange, whose credits include feature '71 and TV series Lovecraft County. "The economics means that everybody has come running to the gold rush of television. But television really is a producers' and writers' medium…but now I think there's going to be even more of a shift within the television scene where I think you can even see a bit more interesting filmmaker-led television."
Thomas Benski, CEO and co-founder of Pulse Films, noted that company's first foray into high-end TV, Gangs Of London, had a different financial model than its films. "If you look at the movies we made, they are labours of love. Gangs is a transformative show for us financially…television is more industrial in a good and a bad way – it is a little more of a structured market and structured process whereas film still sometimes a bit volatile."
CAA's Roeg Sutherland said what producers needed to think about most when deciding to work with various platforms or financiers is holding onto IP. "We need to empower content creators to maintain independence, to be able to punt the decision of how they're going to get their movie or TV show financed down the line… all you need is the independence of developing the right material and packaging it, that then allows storytellers the freedom to determine the best platform for their work."
What cinemas need to bounce back
While some local films are faring very well at the box office, everyone agreed the US tentpoles are needed to really drive audiences back to the cinema.
Perkins noted, "The big success in the UK this summer has been After We Collided, the young adult film which was released with no marketing spend at all, and it's done £2m at the UK box office…There's encouraging signs there but there needs to be a kind of a solid market and a solid output of films to really get us back to where we might have been."
Kim Magnusson, creative director of Scandinavian Film Distribution, noted some local films were benefitting from the lack of the Hollywood product. "You see the headlines that cinemas are dead, but that's because the tentpoles aren't there to fill the houses. But if you look at the local films that are playing [in Denmark], having premiered this summer, they are up by 40% on average. It's great business for our films in our territories."
That is also the case in France, said Stephane Celerier of Mars Films. "The French films that are being released are still underperforming by 10 to 20% but much less so than they would have expected. The movies are coming out in so many more screens, because those screens are free."
Torsten Koch, managing director of Constantin Film explained, "In Germany, we are coming from 120 million admissions last year, and now projecting somewhere between 45 and 50 million for this year. We think the theatrical business still alive, and hopefully it will be in the future."
The industry also needs to really zero in on what merits a theatrical release. "In the past few years, there's so many films coming to theatres, which just don't have the quality to bring audience to do to the cinemas," suggested Christoph Daniel, managing director of Germany and Switzerland's DCM. "We have to ask the question; 'which films have a theatrical relevance?'. It doesn't help to have a theatrical window for a movie that no one cares about."
What next for film festivals?

Festivals can also build on the audience's craving for a real-life experience. Carlo Chatrian, artistic director of the Berlinale, said, "Of course we can stream films and find ways to stay connected, but the human presence, sharing something together is more important…We want have filmmakers and audiences sharing one moment in time and sharing some emotions."
Paolo Moretti, artistic director of Cannes' Directors' Fortnight, said the decision to not screen any films online was made by the filmmakers who ultimately decided that premiering online wasn't the best launch for their films "We weren't against the idea, we had no constraints," he said. "But we talked to the rights holders, and directors and producers and nobody was considering the online option."
Chatrian said he was not convinced online festivals and markets had widely democratised the industry…yet. "My feeling is that the people who attended the Cannes Marche online were the ones attending in the past. Maybe in the future that will really help in getting more people involved," he said.
Salma Abdalla, CEO of documentary specialist sales company Autlook, said: "Festivals are effective. You cannot replace them with video conferences and emails…. we need this moment where we can meet international colleagues and discuss new and innovative distribution strategies."
US indie films could suffer from the rise in international content
CAA's Sutherland credited Netflix with opening audiences' – especially US audiences' – minds about subtitled content with series such as Dark and Narcos, and documentaries too. "It's thanks to Netflix that international films are being consumed by an American audience or an English-speaking audience in a way that that they never were before," he suggested, also pointing to Parasite's success.
Watch out for content from the Middle East, Eastern Europe and Africa, everyone agreed.
But it is the US indies might suffer with the rise of content from other territories., "America doesn't have the subsidies and doesn't have that kind of strength of local consumption, so I think is going to get extremely challenging for American independent films, unless you are a branded filmmaker like Ari Aster," suggested Pulse's Benski.
Shooting films in a pandemic world
Kim Magnusson of Scandinavian Film Distribution noted a company like Netflix could fare well by having its global hubs as the pandemic accelerates and decelerates in certain territories. "For Netflix they could actually produce original content throughout Covid. They just moved production around the globe wherever the wave was not hitting, because they have production hubs around the world."
Producer Katrin Renz of Switzerland's Tellfilm noted the company pushed the shoot from June to late August for its feature Monte Verità, which shot in Switzerland, Italy, in a studio in Cologne and will moving onto the higher-risk shooting in Vienna next week. She noted the film's budget will rise by about €700,000 to a new total of €7m because of Covid-related safety measures; the production has applied to the Swiss government to cover most of that overage.
She said the new safety measures were straightforward enough. "All the masks and everything wasn't the problem really, but I think the insecurity if in the end we're really going to get the money. And now it's all the psychological side of whether [the crew wants to travel]."
Tommaso Marzotto, co-founder of UK-based Texit, which has financed films including Rocketman and Men In Black 4, said it has tried to mitigate risk by delaying its next round of investments from April until October. He said he's seen too many scripts crossing his desk that are about the pandemic; he would rather focus on "films that are feelgood, or musicals".
Animation is one area that has not really been hit by any Covid-related delays. Laurent Zeitoun, founder of Good Hero, is working on his second animated feature, Fireheart. The film is budgeted at $35m and being produced in Montreal; the team never had to shut down during lockdown, but instead were working from home, and will be on schedule to deliver the film in early 2021.
Inclusion can't be ignored
Lili Hinstin, former artistic director of Locarno, said festivals should better reflect their communities: "As film festival directors, we have a great responsibility. It's a job to do, it's not going to come to you by itself. When you go to Cannes and everybody is white… it's not normal. France is not like this. It should reflect how French society is, and it is not."
Chatrian said the Berlinale, taking place in one of the world's most multicultural cities, has to be aware not just of race and gender, but of class as well. "It's less visible, when we talk about social background, cinema was born as a popular art. Now the notion of social class is very blurred, but it seems film festivals have lost a bit of that strength to talk to different classes. It's not as visible. But we should all together make an effort with this."
Demange said it was wonderful to see the success of a show like Michaela Coel's BBC series I May Destroy You. "Black and brown people can tell our own stories and own them, that's the exciting thing that's happening right now. We can change who is at the heart of these stories."
Demange is working on the adaptation Exit West for Netflix, with Riz Ahmed leading the cast and producers including the Obamas and the Russo Brothers. Part of the dialogue will be in Urdu and Arabic. "This is where Netflix is exciting," he said, "They're making this film on a scale that you will never have imagined for a Muslim love story."