Oscar-nominated creative duo planning interactive book, app, educational merchandise and first feature-length film. London-based Nexus producing.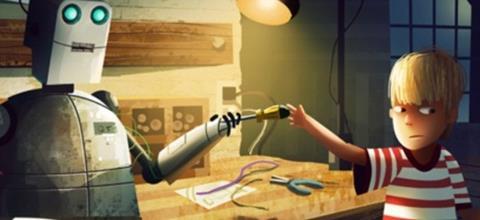 British animation directors Alan Smith and Adam Foulkes have unveiled a new cross-media project that could also become the basis for their first feature-length film.
Entitled Radio Jones: Roboteer, the project revolves around a genius boy who builds himself the perfect robotic father.
Smith and Foulkes – who were Oscar-nominated for their short film This Way Up in 2009 and are also well known in the ad world for their Coca Cola and Honda spots — have just started production on an interactive children's book based on the story and plan to start developing a related feature later this summer.
The production is a joint work with long-time collaborator Chris O'Reilly, co-founder alongside Charlotte Bavasso of London-based animations studio Nexus Production and digital sister unit Nexus Interactive Arts, which fosters collaboration between programmers and filmmakers.
Nexus Productions, which has previously focused on shorts, commercials and television, announced during the Cannes Film Festival that it was partnering with Coraline and Wallace and Gromit: Curse of the Were Rabbit producer Claire Jennings on a slate of animation features.
Nexus secured a British Film Institute (BFI) Vision award for £100,000 for the venture earlier this year. The Radio Jones project recently won European Union funding from the MEDIA Interactive Works Fund.
It is expected that Radio Jones: Roboteer will be one of the feature projects on Nexus' film slate.
Smith, Foulkes and O'Reilly presented the project at a cross-media focus at the Annecy International Animation Film Festival's Mifa market on Friday (June 14).
"It's a sort of Pinocchio in reverse. The star is Radio, a young genius builder of robots who tries to build himself the perfect dad," explained producer O'Reilly who wrote the script.
"It's a unique take on a father and son story. It veers off into an unexpected road trip which climaxes in fairly chaotic circumstances but it's ultimately very warm-hearted."
Showing some early concept drawings, Smith said: "We're a week into production on the book. We're starting off with the iPad interactive book and we're really excited about how a reader can interact with a story."
O'Reilly told ScreenDaily after the presentation that the project aimed to intermesh the best of film and digital production
"The digital world has a very different philosophy from that of film… everything is straight to market. They get something out and see how it works and how it can be improved," said O'Reilly.
"The process behind film is completely different, slower and more secretive.
"In the past, whenever we've created something and pushed it out there it's found an audience and we're wondering whether we can apply this approach to TV and film production."
Other projects pitched at the Mifa crossmedia event included French super hero parody Je Suis Super, Finnish pre-school series Cassie Stevens and Italian teen game platform and TV series 390.
Nexus is due to announce its slate of animation films in July.