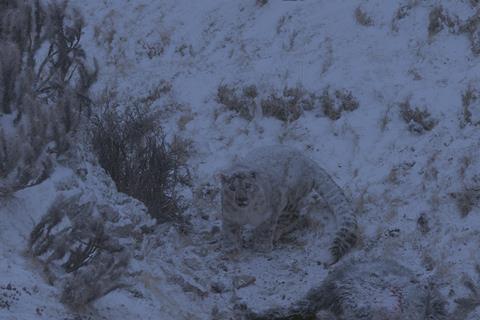 Modern Films has secured UK and Ireland rights to French documentary The Velvet Queen (La Panthère des Neiges), which debuted at Cannes and played in the Best of Fests section at International Documentary Film Festival (IDFA) this week.
The UK distributor plans to release the feature theatrically in early 2022.
Directed by Marie Amiguet, whose credits includeThe Valley Of The Wolves, and Vincent Munier, and produced by Paprika Films, best known for March Of The Penguins and Amazonia, with Kobalann Editions and The Bureau, it features an original score by Nick Cave and Warren Ellis.
The Velvet Queen follows photographer and explorer Munier and travel writer Sylvain Tesson as they attempt to track down elusive snow leopards in the heart of the Tibetan highlands and capture them on film.
The Velvet Queen is next screening at Les Arcs next month and will be released in cinemas in France by Haut et Court on December 15. It is due out in the US on December 22, released by Oscilloscope Films.
Previously announced distributors in other territories include Australia and New Zealand (Madman), Germany (MFA), Austria (Polyfilm), Italy (Just Wanted), Spain (Wanda), Denmark (Angel Films), Norway (Storytelling), Sweden (Njuta), Benelux (Periscoop), Switzerland (Filmcoopi), Poland (M2 Films), Ex-Yugoslavia (MCF) and China (DD Dream).
The accompanying book published by Gallimard won the French literary award, the Prix Renaudot.