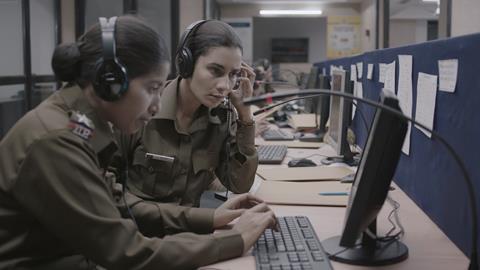 Indian director Ivan Ayr's Soni won best film in the Roberto Rossellini Awards at this year's Pingyao International Film Festival (PYIFF), while The Crossing from China's Bai Xue took best film in the Fei Mu Awards.
Best director in the Roberto Rossellini Awards, selected from the festival's Crouching Tigers section, went to Serbia's Ognjen Glavonić for The Load, while the Jury Award went to A Land Imagined, directed by Singapore's Yeo Siew Hua.
In the Fei Mu Awards, for first or second-time directors of Chinese-language films, The Crossing also won best actress for Huang Yao's performance. Huo Meng won best director for Crossing The Border, which also took best actor for Yang Taiyi (see full list of awards below).
In its second edition, PYIFF was bigger and busier, drawing Chinese film industry executives; leading filmmakers such as Johnnie To and Xu Zheng, who both gave masterclasses; and stars including Yang Mi, Yao Chen and Liao Fan.
Masterclasses were also presented by Korea's Lee Chang-dong, Mauritanian filmmaker Abderrahmane Sissako and the Philippines' Lav Diaz. World sales agents attending the festival's Works-in-Progress section included Philippe Bober, Laurent Danielou and Hengameh Panahi.
The festival, which describes itself as a "boutique festival for the people", hosted the world premieres of 12 Chinese films, including Ye Jiangtian's When Love Blossoms and Liu Miaomiao's Red Flowers And Green Leaves, and two non-Chinese films – Vetri Maraan's Vada Chennai and Ivo Ferreira's Hotel Imperio.
"The big difference from last year is that people are starting to consider Pingyao as a platform to launch their films," said PYIFF artistic director Marco Mueller, who launched the festival in 2017 with Chinese filmmaker Jia Zhangke. "We're also seeing more Asian premieres, with some of the Chinese filmmakers telling me that, in other Asian festivals, the Chinese media coverage would have been quite different."
This year, the festival made a politically astute move in screening Half The Sky, a Chinese government-supported BRICS omnibus, as the opening film, but elsewhere programming was pushing boundaries with titles such as Lukas Dhont's Girl, Lee Chang-dong's Burning and Ho Wi Ding's Cities Of Last Things. However, as last year, all films in the festival have been cleared by Chinese censorship.
The festival is also building on its mission to encourage film students and young filmmakers through Pingyao Corner, which featured short film screenings and presentations from Beijing Film Academy and six other leading Chinese film schools, and a comprehensive 'Filmmakers' Program' that included lively sessions on film criticism, acting with emotion in the age of emojis and story-telling for new media.
"We want to draw more of these younger viewers to prove that there is a hunger for different kinds of films [in China] and to prove to distributors that their films can be embraced by different sectors of the audience," Mueller said.
Many leading Chinese buyers also attended the festival and the awards have been partly designed to encourage the distributors of arthouse films. The cash prizes for best film in the Roberto Rossellini and Fei Mu Awards ($20,000 and RMB120,000 respectively) were split between the directors and the Chinese distributors of the films.
PYIFF opened on October 11 in the ancient city of Pingyao in Shanxi Province and continues until October 20. The awards were presented during Pingyao Night (October 17) at the festival's outdoor screening venue Platform and were followed by the world premiere of Red Flowers And Green Leaves.
2nd PINGYAO INTERNATIONAL FILM FESTIVAL WINNERS:
Roberto Rossellini Awards:
Best Film: Soni, directed by Ivan Ayr (India)
Best Director: Ognjen Glavonić, The Load (Serbia)
Jury Award: A Land Imagined, directed by Yeo Siuw Hua (Singapore)
Fei Mu Awards:
Best Film: The Crossing, directed by Bai Xue (China)
Best Director: Huo Meng, Crossing The Border (China)
Best Actress: Huang Yao, The Crossing by Bai Xue (China)
Best Actor: Yang Taiyi, Crossing The Border (China)
Youth Jury Award: Crossing The Border, directed by Huo Meng (China)
Works-In-Progress Lab Awards:
Momo-WIP Lab Best Film: Lhamo And Skalbe by Sonthar Gyal
Momo-WIP Lab Best Director: Huang Zi for All About ING
Wings Project Award: Untitled film by Yang Pingdao
Wishart Award: Koali&Rice by Yesir
See You Again Pingyao Award: Unknown Time by Chang Bia